Wedding reception: Hawthorn Woods Illinois, Dawn and Ross-
Dawn & Ross got married on a beach in Florida, and had their reception here in Illinois shortly after. Shooting the reception was great, no stress all fun. Thanks to the happy couple for scheduling some time for romantic portraits.
Love this one!
Another favorite 🙂
Their adorable little boy.
Now that's what I call a back yard!
Cake from  Lovin Oven Bakery in Round Lake.
Gorgeous details.
I was sooooo thrilled when the clouds decided to cooperate to make  these portraits possible 🙂
Does anyone else get vertigo when looking at this photo?
From the Bride…
'Dress: Kathryn's Bridal in McHenry.  They were the first shop I went to & in the middle of a snow storm!!  Everyone else had cancelled their appointments due to the weather so I received the royal treatment.  I brought in a bunch of pictures of designers I liked that they offered on their site and much to my disappointment they didn't have one of them in the store.  They let me search their stock and they assisted me in pulling dresses they thought I would like.  Looking at them squished in bags really did none of them any justice and I almost gave up because nothing was what I had envisioned myself in.  My dress was the first one I tried on by Private Label G and when the assistant pulled it out of the bag I freaked and wasn't going to try it on because of all the bead-work on the top and busy skirt.  She told me to ignore the beads because the style was a drop waist with a skirt that would float across the beach which was what I was looking for.  Much to my surprise when she pulled it up on me everything changed.  I walked out of the room feeling like a princess and the look on my moms face was priceless!!  I couldn't commit that night being my first night out but I ended up back there less than a week later to order my dress!!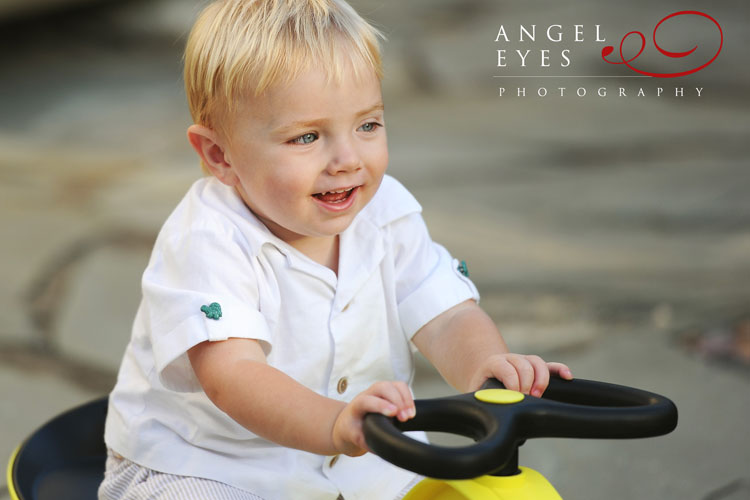 Men's Attire:  Their shirts were Tommy Bahamas from Macy's.  Their pants were designed by Calvin Klein from Men's Wearhouse.  We wanted casual, comfortable, beach wedding attire that could be worn again and again.
Wedding Bands: AM Lee Jeweler in Northbrook.  I gave Ross a couple pictures of what I wanted my engagement ring to look like and Albert built it.  Then he designed our weddings bands to match that along with our lifestyles.
My bouquet, the corsages, and centerpieces were done by Heather Bay at Rosé Gardens.
Home Reception: Hawthorn Woods, Illinois-September 8, 2012
Venue: Mom & Dad Kirshner's backyard.  We used Party Plus in Palatine for our tent, dance floor, indoor bar, outdoor tiki bar, tables, chairs, linens, lighting, and generators.  They have a fabulous showroom and since everything is Ala Carte you get to create your dream wedding exactly the way you want it.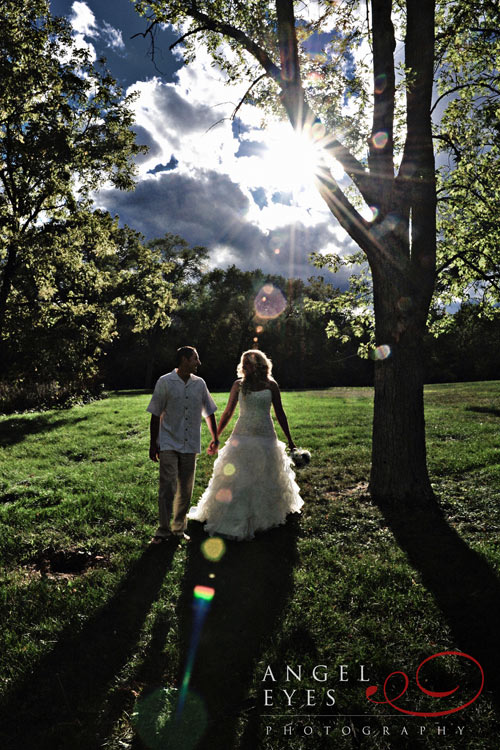 Food, wine & staff: Catered Productions in Libertyville.  I am so grateful for Reyeh Aguilar who was our wedding planner from Catered Productions.  She assisted me in deciding a delicious menu, table settings, and detailed time schedule for the staff.  They provided us with the perfect amount of bartenders, wait staff, and cooks that made everything run smoothly for everyone.  I was very impressed that some of the staff went above and beyond and assisted a couple of our guests by preparing their meals at the buffet for them.
Party Favors & Centerpieces: I wanted to share the beach with our guests since we had an intimate wedding ceremony.  I made the centerpieces myself with sand, shells, palm leaf fans, aqua stones, multi colored LED submersible lights, water, and gorgeous orchids.  I purchased the Harmony Seashell Turtles from HansonEllis.com for my party favors and had "Pacing Ourselves On Our New Adventures" tagged on them.  The final touch was take home frames with pictures from our wedding ceremony.
Cake: Lovin Oven Bakery in Round Lake.  Ross and our son Austyn decided the flavors of the cake at the tasting while i came up with the design.  Our cake could not have been more perfect.  They made my vision of sparkling diamonds on the beach come to life.
DJ: Travis Wetzel with TTunes Productions.  We love to dance and he kept us and all of our dance floor all night long!!  Not only did he play our favorite songs, he took requests from our guests, and played all of the best party songs and today's hits.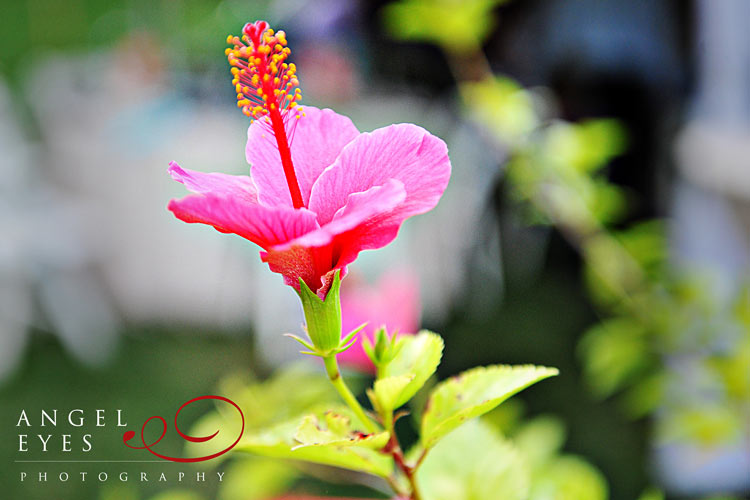 Photographer: Hilda Burke & Carol Lea at Angel Eyes Photography-DUH!!  Hilda is a phenomenal artist with an amazing personality and a good friend of the family.  I wish i could see the world thru Hilda's eyes!!  We knew we had to have Hilda and Carol in order to capture every memorable moment.  They went way above and beyond all of my expectations.  They gave me the most awesome compliments all day and made me feel sexy with my man.  I'm sure they kept asking me if I needed anything else throughout the day because they were afraid my head was going to explode after swelling like a watermelon from all the compliments, just kidding!!  But really, they genuinely care about their brides which tells you how outstanding these ladies are.  We had so many laughs and so much fun; plus, I got to roll around in the grass and stand in the clouds in my wedding dress.  Not many brides can say they did that!!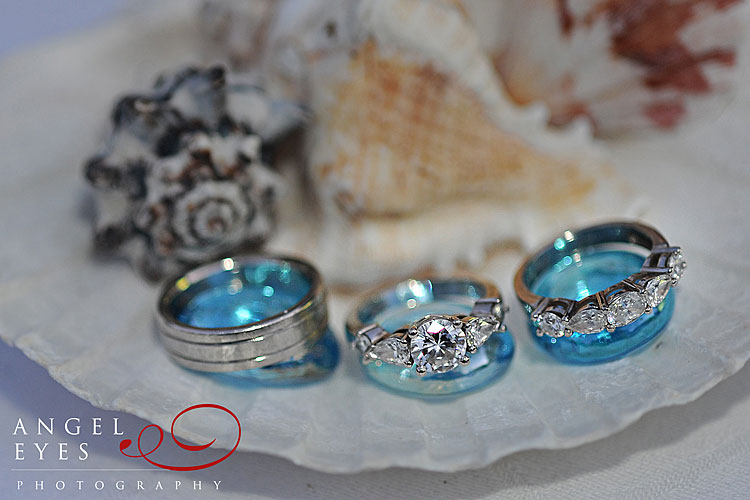 My advice to Brides-To-Be is do what is right for you, don't just settle for anything, and do your research.  We wanted a formal beach wedding, on our terms, by our rules, with the assistance of a staff.  We didn't want to be strapped down to starting and ending times or hidden fees.  The parties not over until the bride and groom say so!
My favorite wedding related purchase has to be my dress.  I like to consider myself more of a sporty spice.  I'm a personal trainer and a total jock.  Words cannot even express how the dress made me feel from the moment I first stepped into it and it was even more special because my mom was there to experience it with me.  I believe every girl should feel like a princess on her wedding day.
My favorite wedding memory was dancing with my dad to Tim McGraw's "My Little Girl"
I have 2 things I would have done differently.  1.)I would have brought Hilda to Florida with us.  2.) I wouldn't let Ross pick our first dance again.  I love Michael Jackson's "Rock With You" but it's awkward to dance to.
Cake topper: Ross had to return from Florida right after the wedding but Austyn and I got to enjoy a mini vacation with my parents who drove down for the wedding with my wedding dress.  We stopped at Disney on our way and did a little shopping!!  Even tho it didn't actually make it on top of my cake…we still got to share Florida with our family and friends and have a cool collectible to cherish forever!!
Austyn's ring bearer pillow: made specially for him by my talented mom!!  Not only did she embroider our names & wedding date on it but she also included a cute turtle button (that matched his shirt) for him to play with along with the shiny fake rings.
Austyn's attire: his linen pants were from Janie and Jack and my mom made the shirt.  For the life of me I could not find a cream colored linen shirt for a toddler so when my mom offered to make it I couldn't say no.  He couldn't have looked any cuter!!
Flowers for the reception were from Countryside Flower Shop in Crystal Lake.  They couldn't have done a more amazing job using my favorite flowers and colors!!  This is actually where we purchased our gift card holder as well.  It is actually a plant trellis that we dolled up!!
I wanted to add some to my favorite wedding memory.  My dad has always been my rock and my wedding day was no different.  Clearwater Beach is a very busy beach and on the day of our wedding they had people to keep the crowds back but some still came up to us.  They were cheering, honking their horns, complimenting me, and some even sat and watched our entire wedding.  It was a lot of attention that I hadn't expected and anyone that knows me knows I don't like being the center of attention especially in front of a bunch of strangers.  My dad helped me stay calm, cool, and enjoy every second because I knew he was just as nervous about the crowds as I was.  We stopped at the end of the aisle I had them make in the sand especially for him because I knew how much it meant to him to walk his baby girl down a traditional aisle.  When they played Tim McGraw's "My Little Girl" at our reception in front of all of our family and friends I lost it.  My parents and very large tight extended family have taught me how to love and cherish everyone and everything that came into my life.  I could not be more thankful for each and every one of them!!  This was the most magical day not only for Ross and I but our entire family and friends.'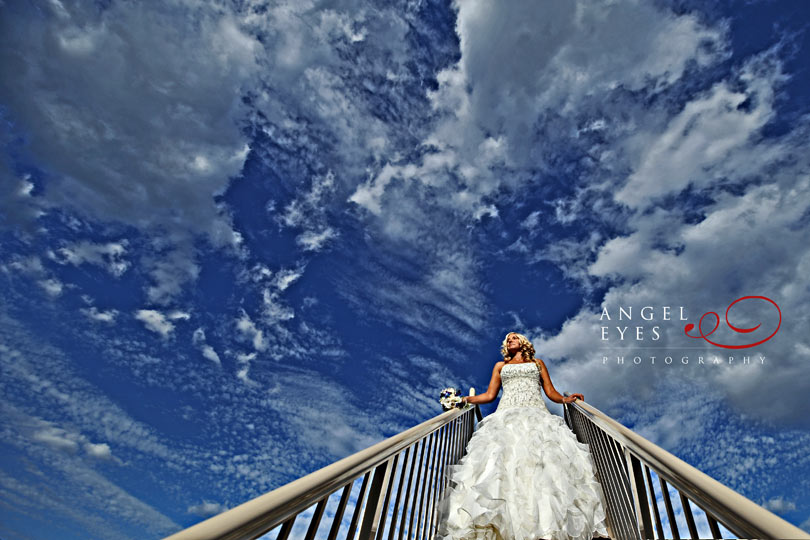 Photo above obviously my favorite, LOVE!!!  Angel Eyes Photography by Hilda Burke…comments welcomed and appreciated 🙂