Salvage One wedding photos, Unique Chicago Wedding Venue | St. Paul of the Cross, Park Ridge | Halloween wedding | Katelin & Robert
What's better than a fun wedding at my new favorite venue? A fun wedding on Halloween! Salvage One is one of the most unique wedding venues in Chicago. If you are looking for something different, something with a Wow factor, this is the place! A special thanks to Planner Kim Gapinksi, Bride + Joy Events for making sure everything flowed smoothly.
Flowers- Edison Park's Romance in Bloom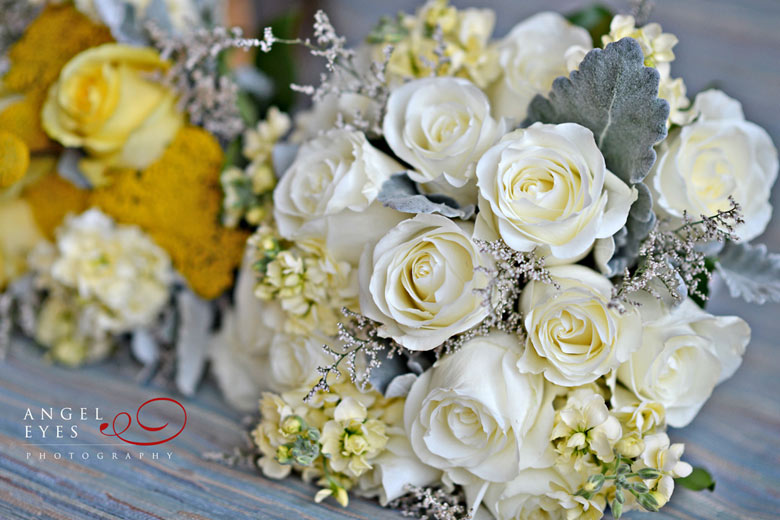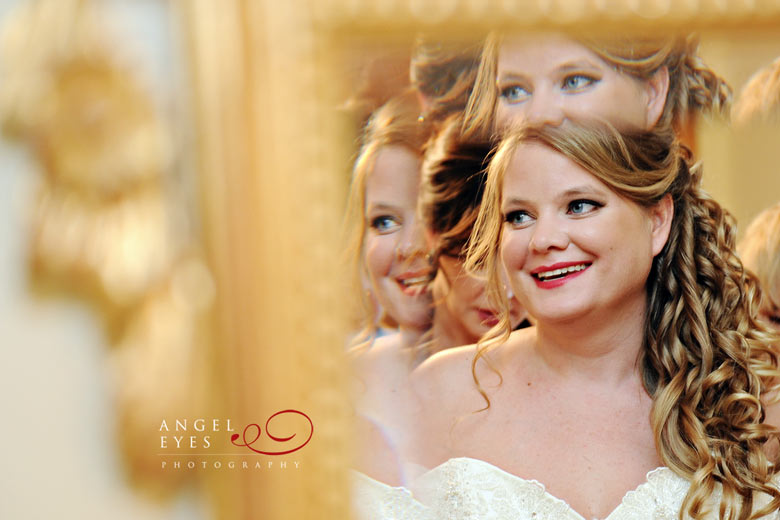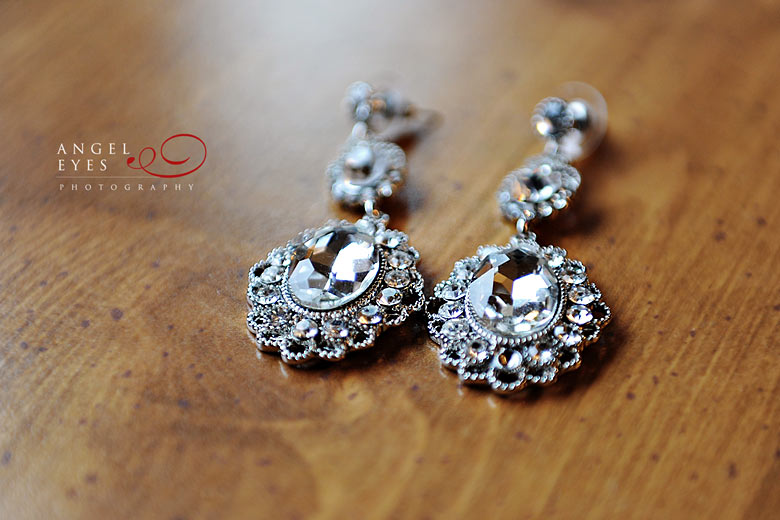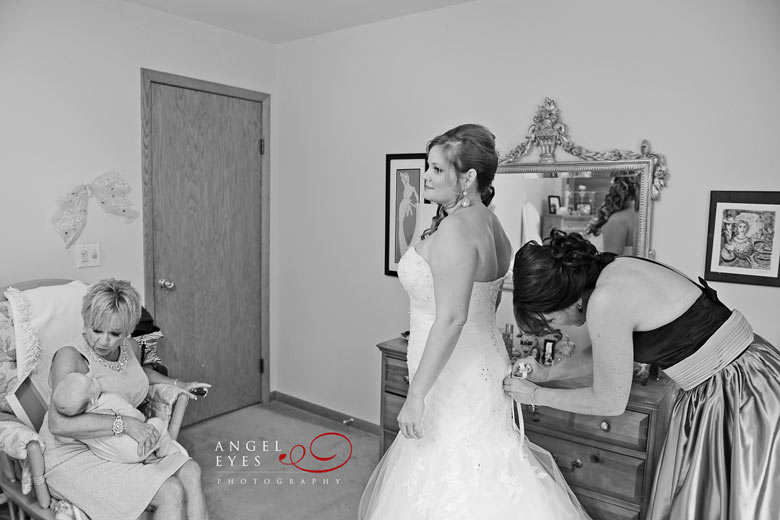 Dress- Macy's and alterations at Mary Catomy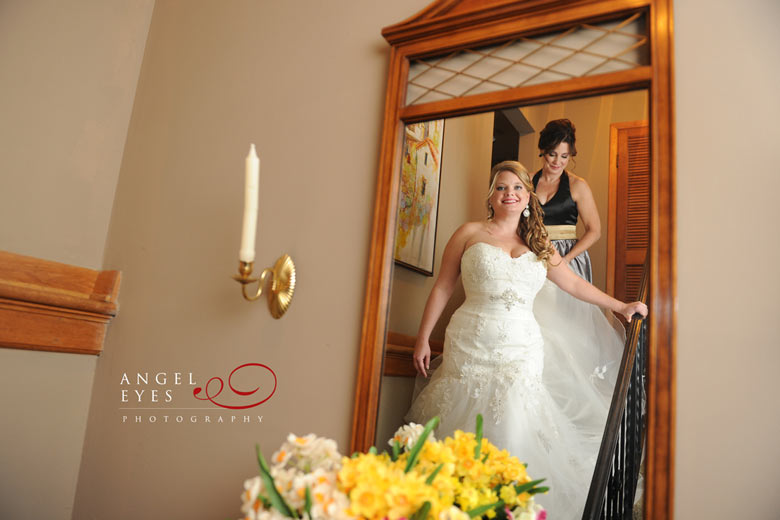 Some fun photos before the wedding! It was 32 degrees, thanks for braving the cold bridal party.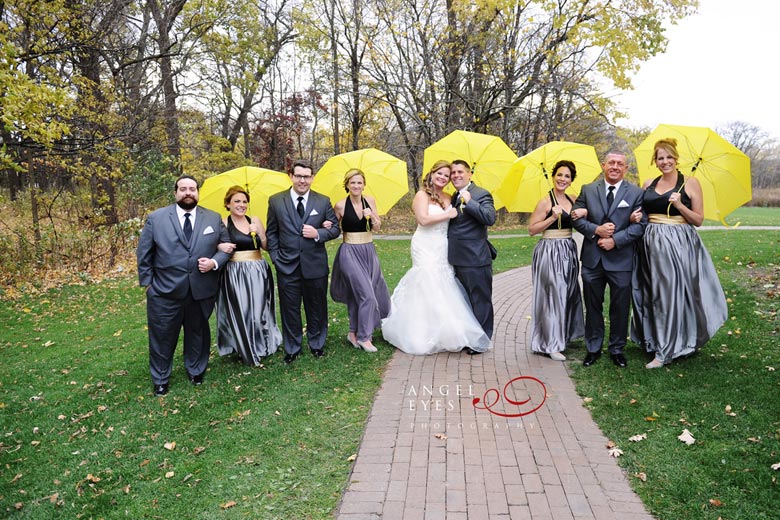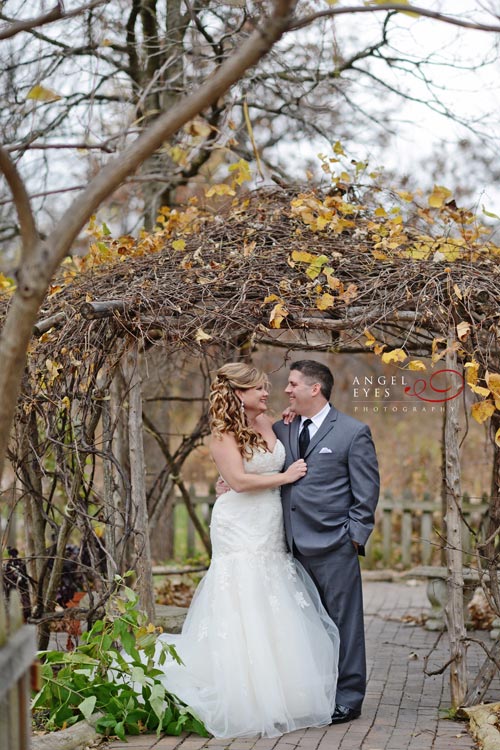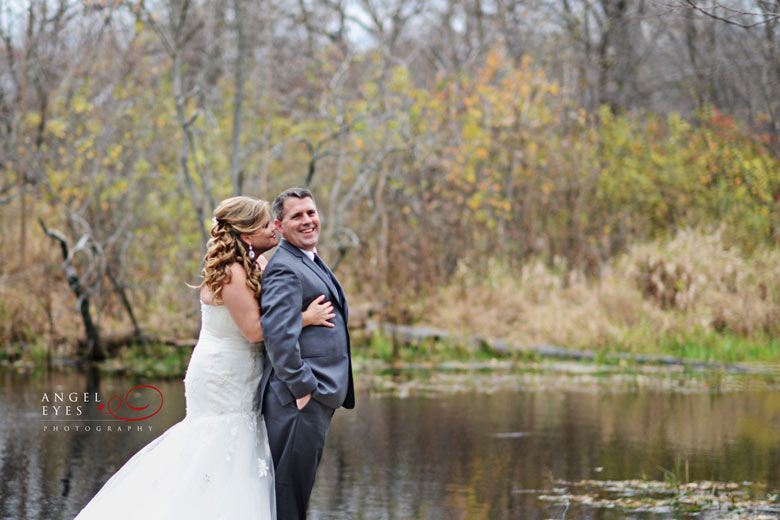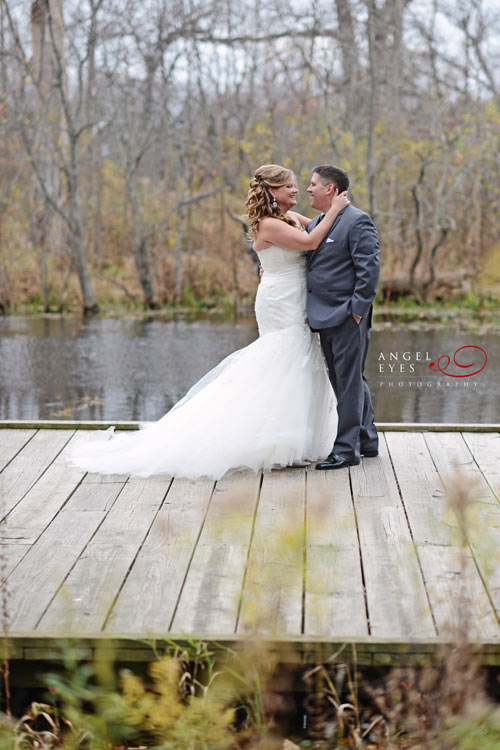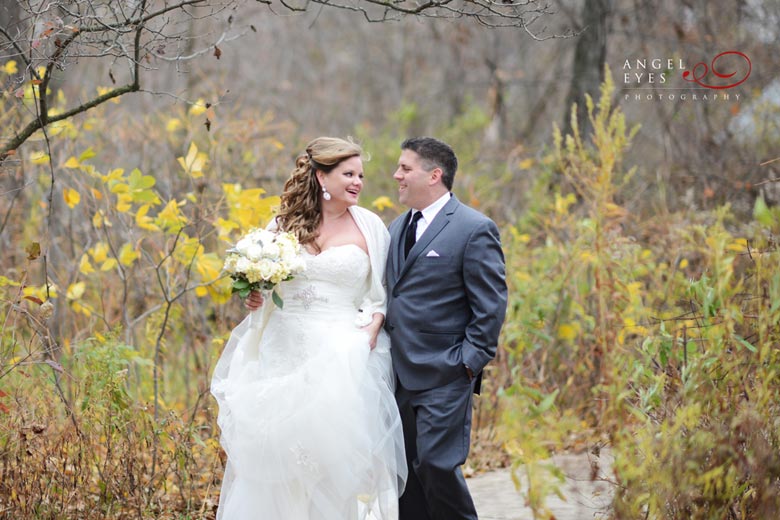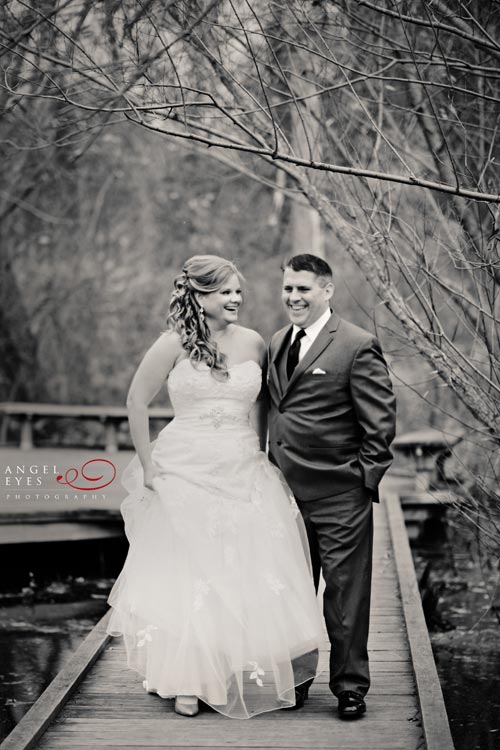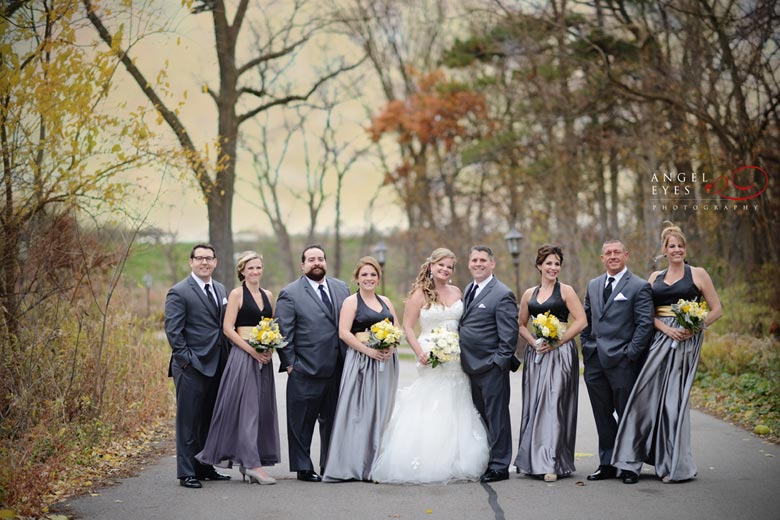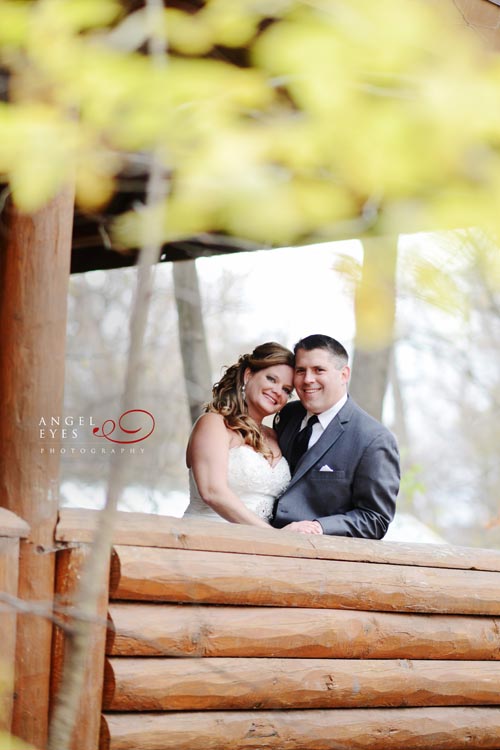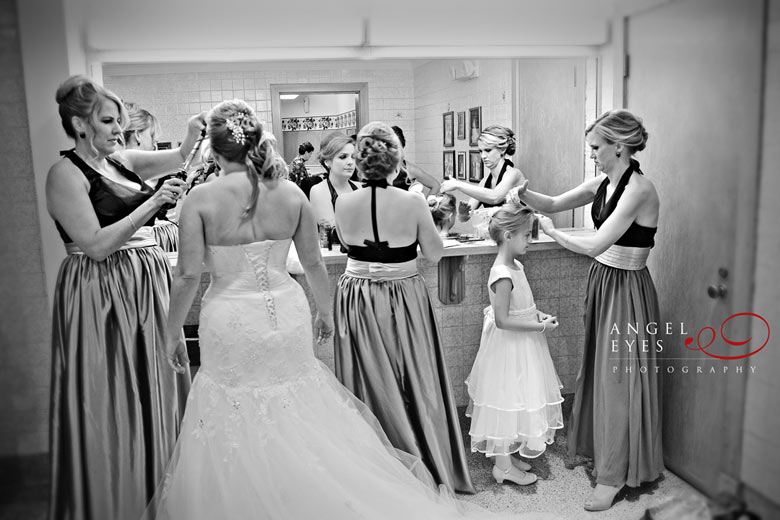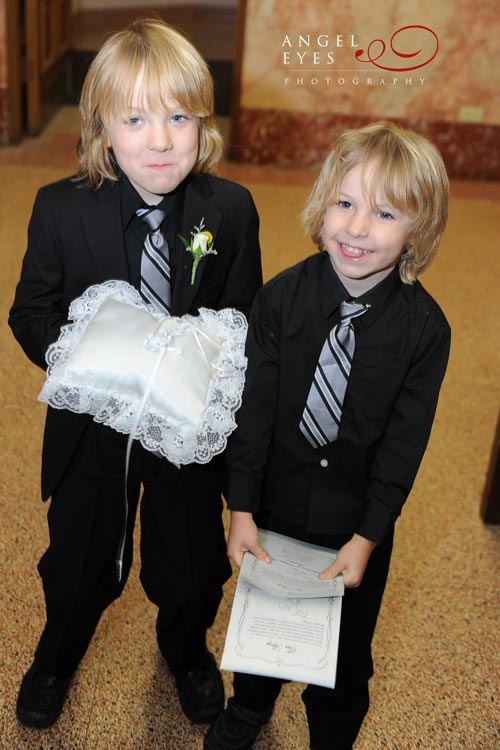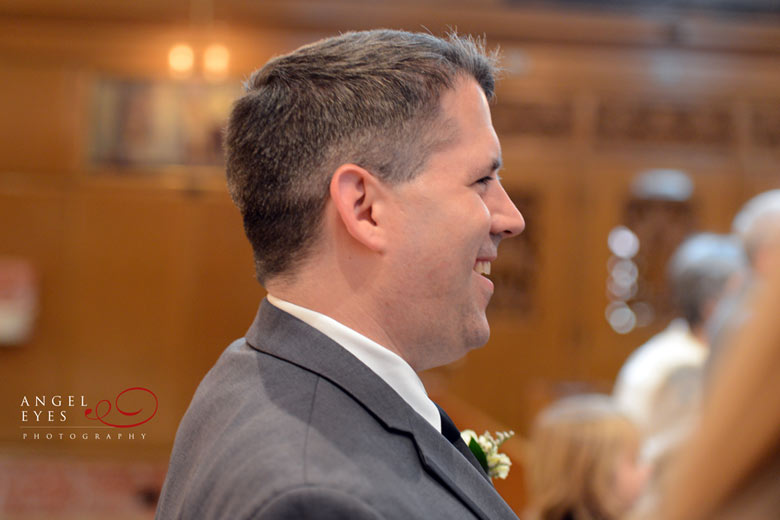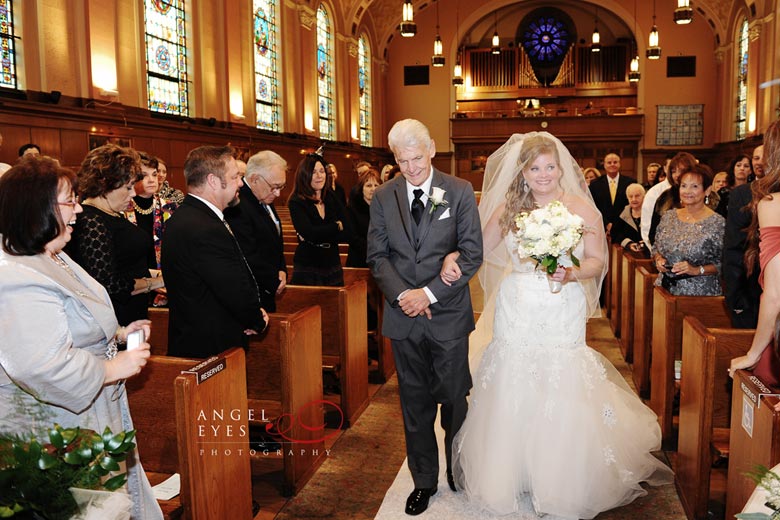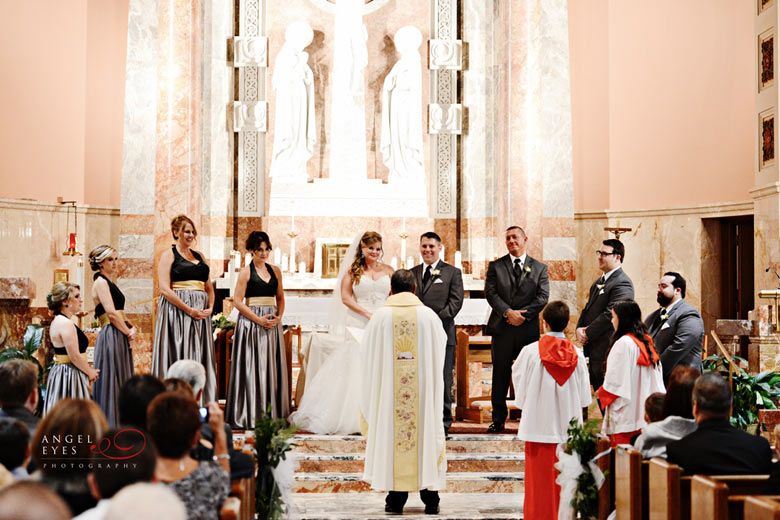 Church- St. Paul of the Cross, Park Ridge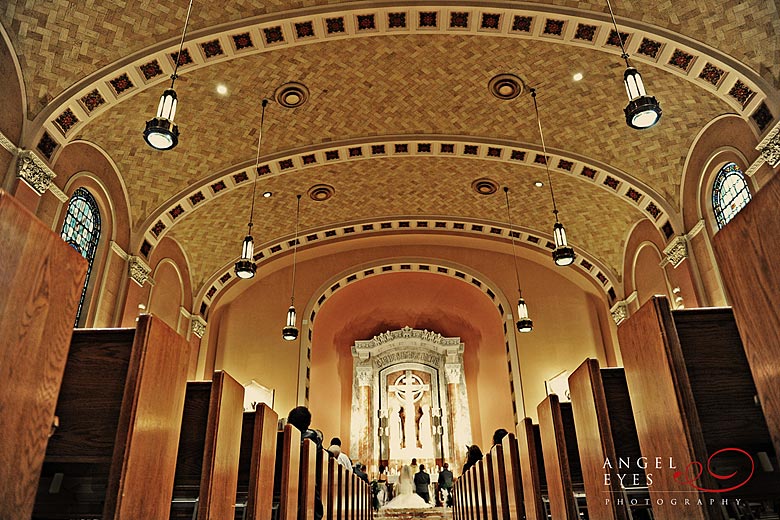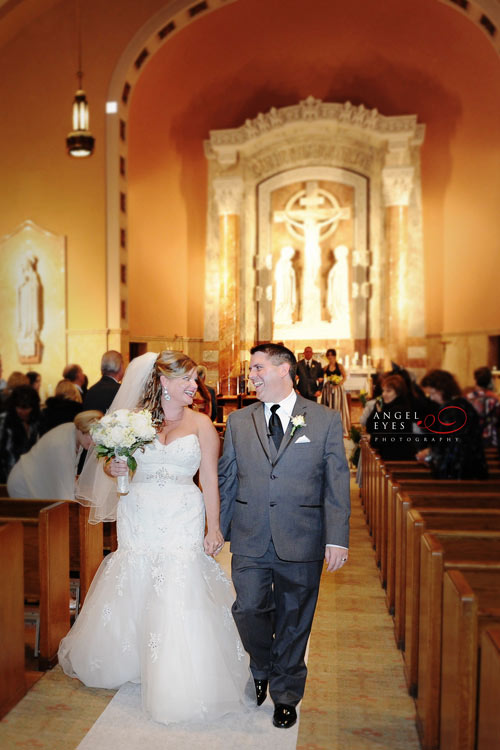 Venue- Salvage One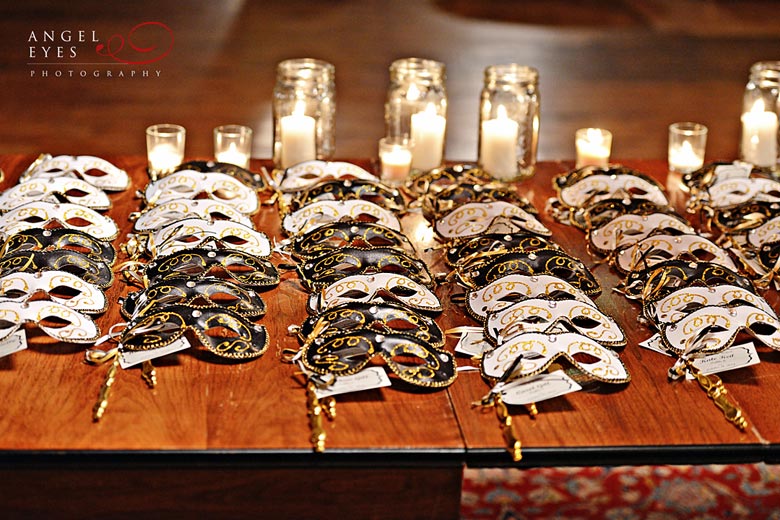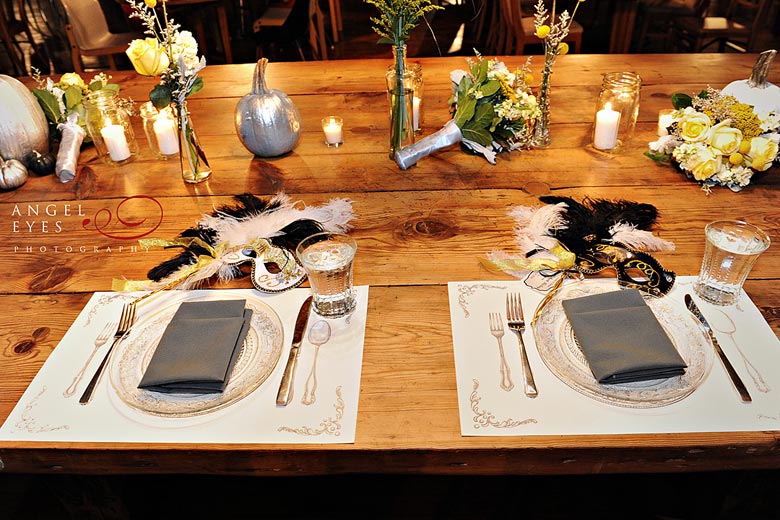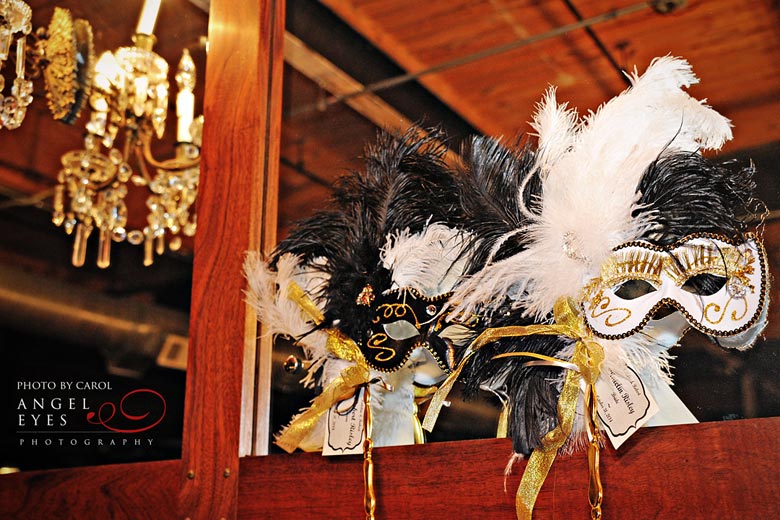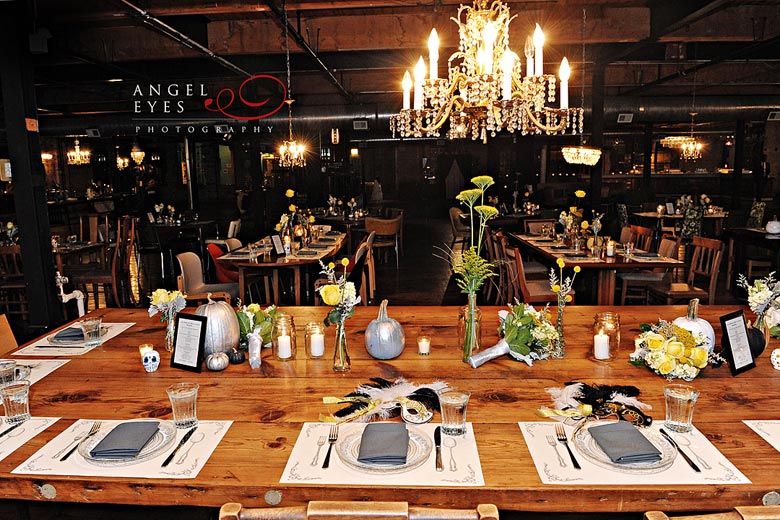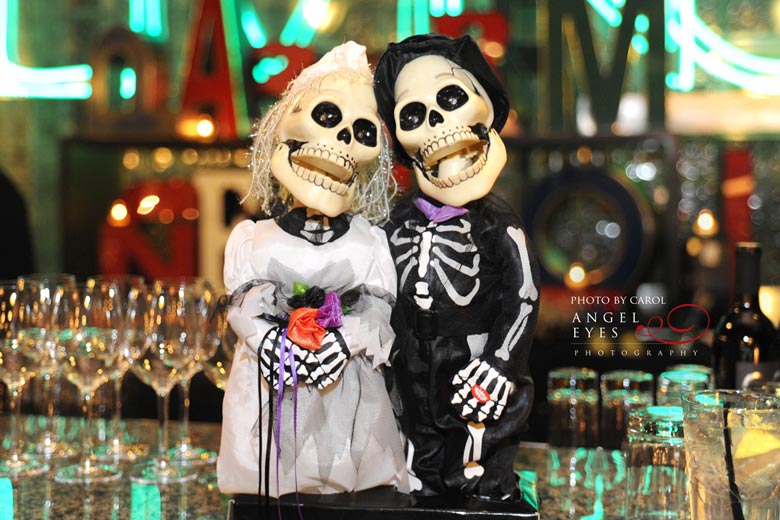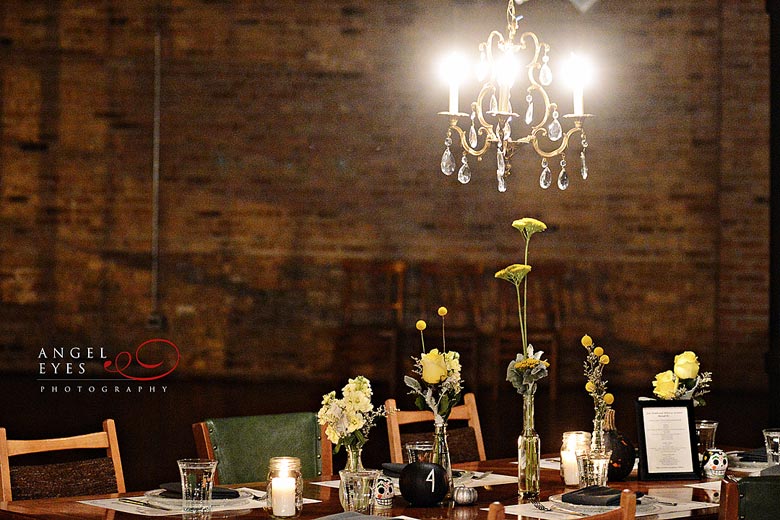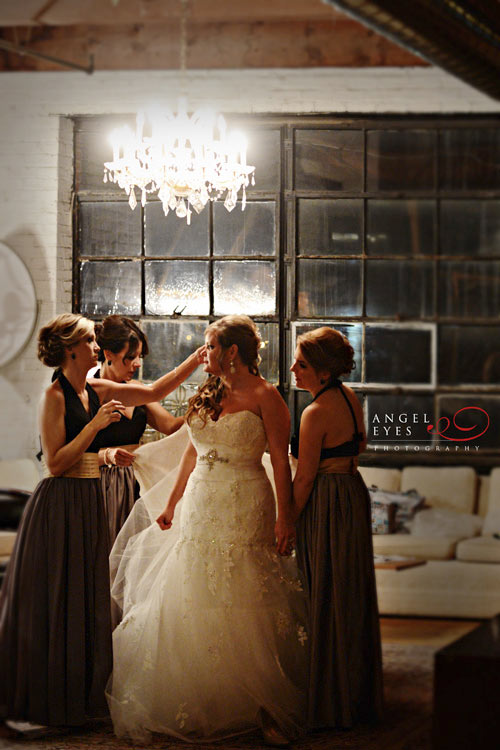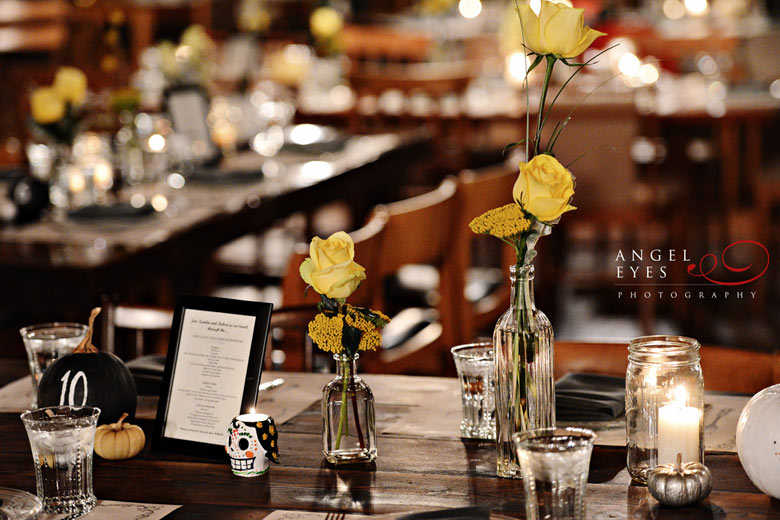 Flowers- Edison Park's Romance in Bloom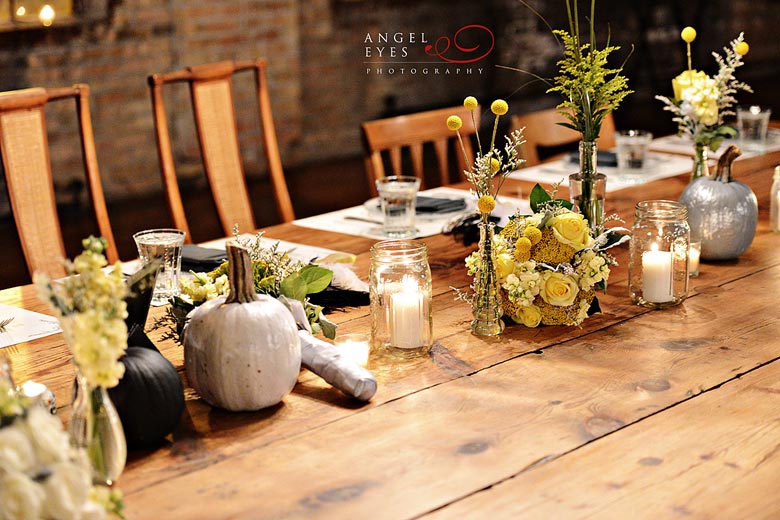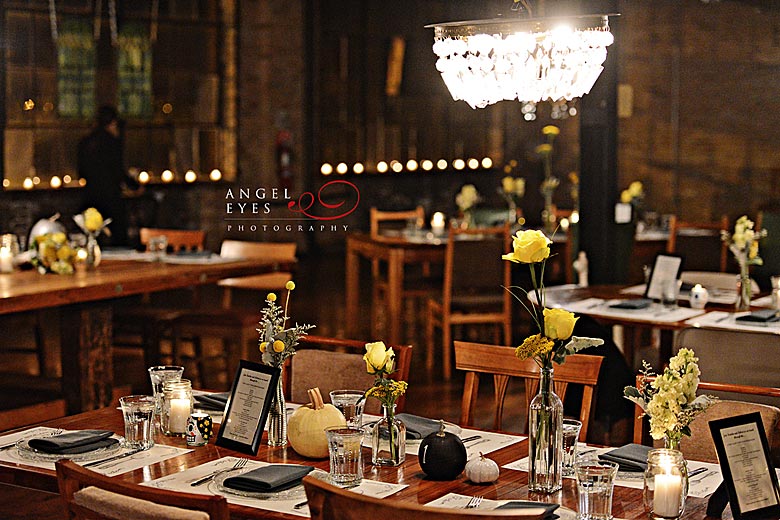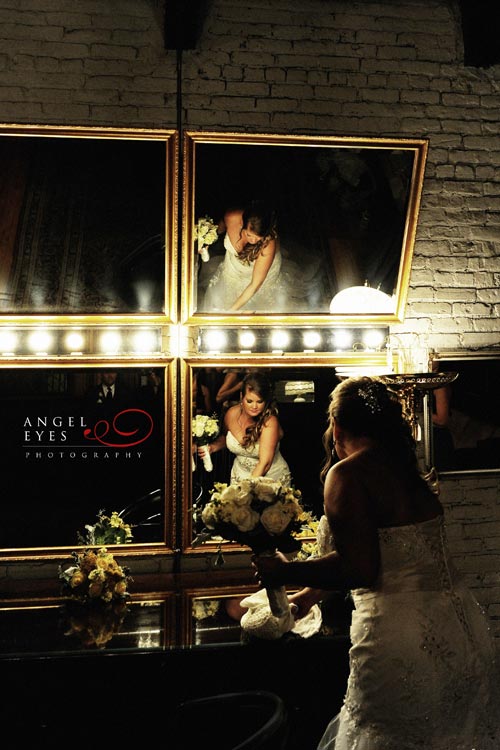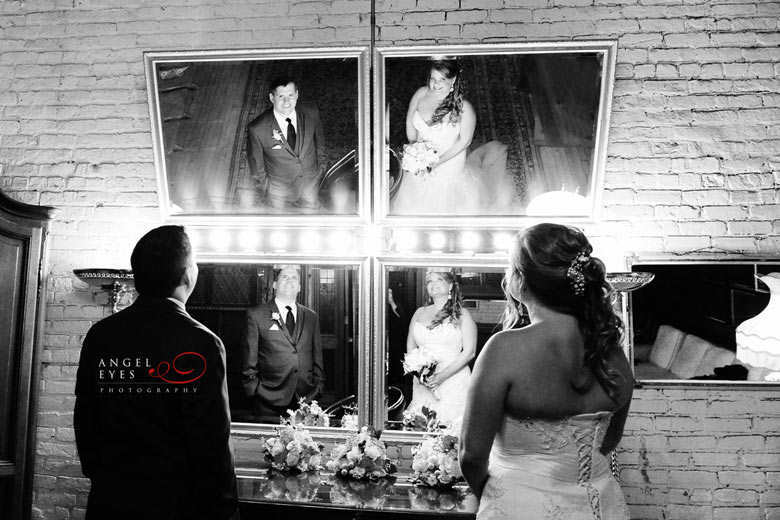 Food- Goose Island They are THE perfect solution for boring wedding food! So SO good!!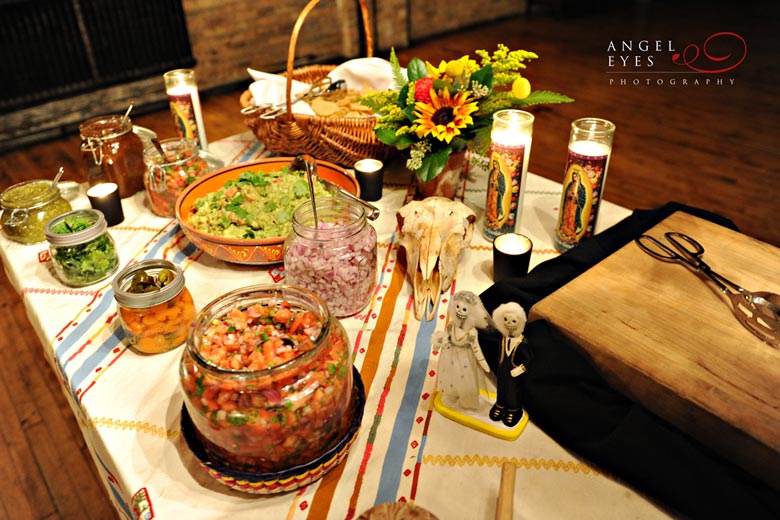 The corn was my favorite!!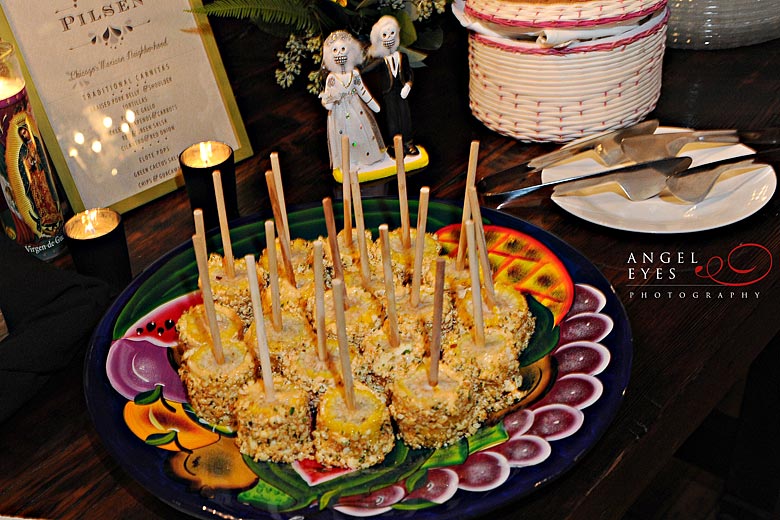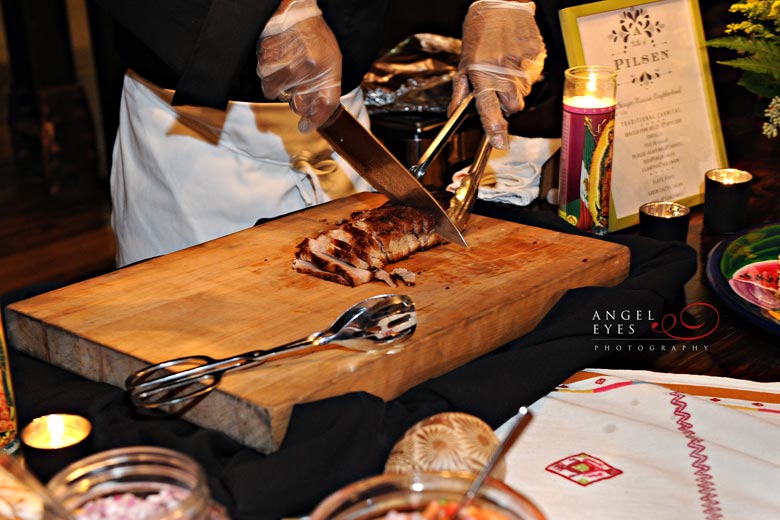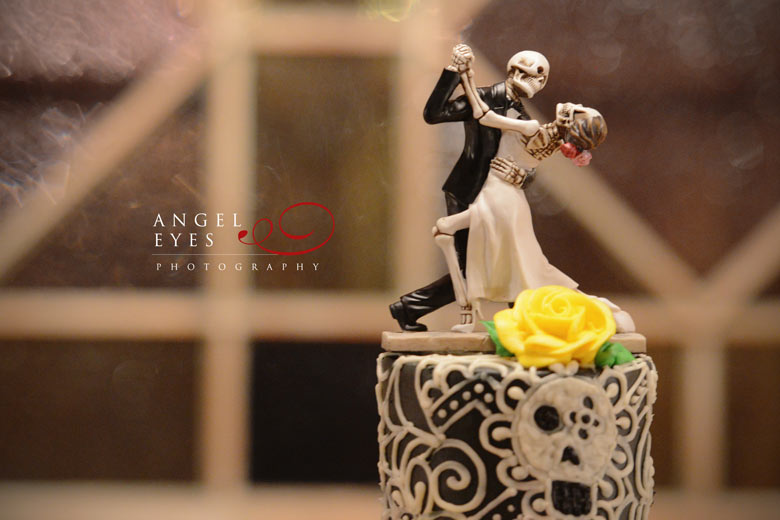 Cake- Mariano's | Candy- Sam's Club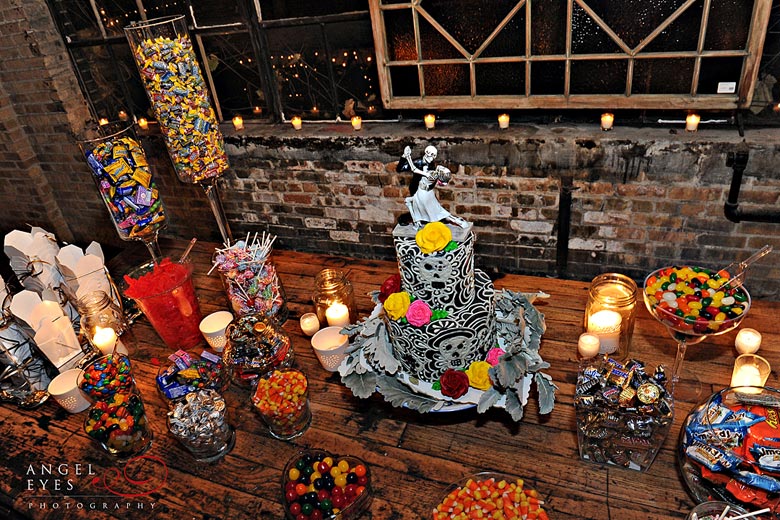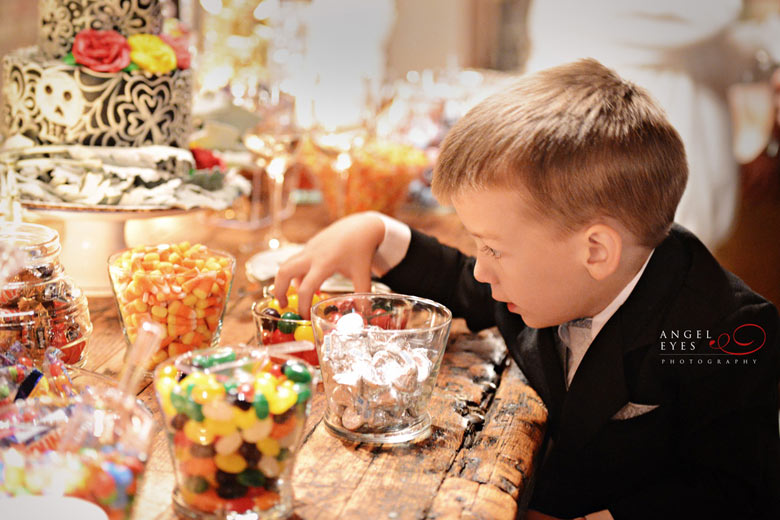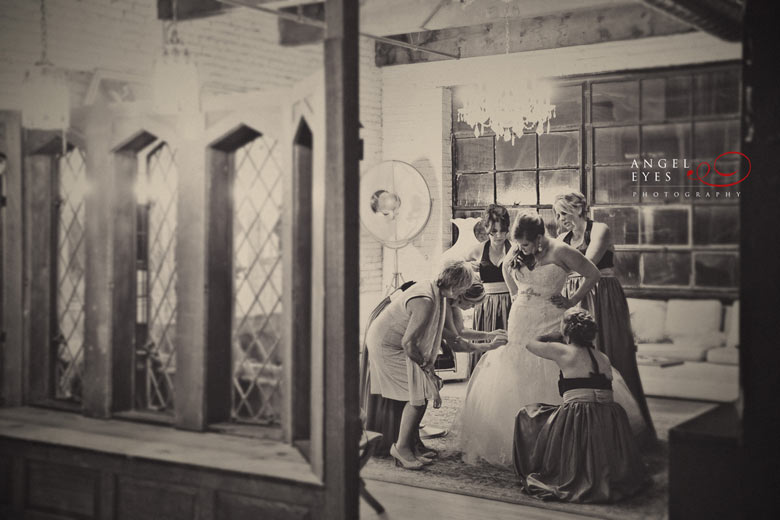 DJ- Toast and Jam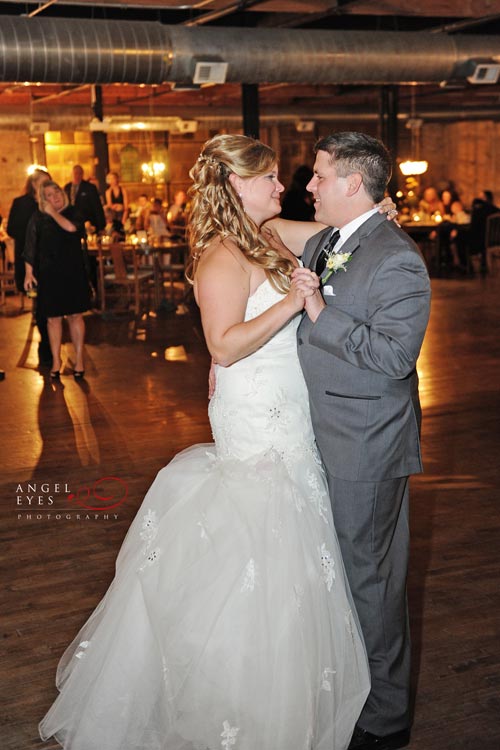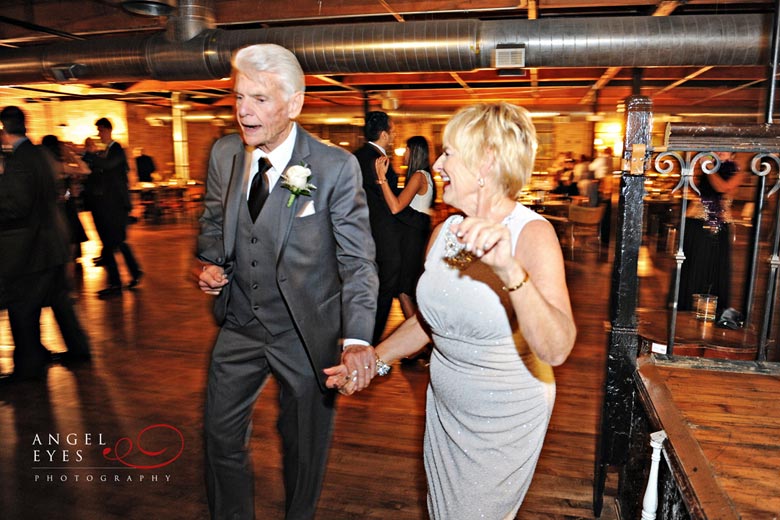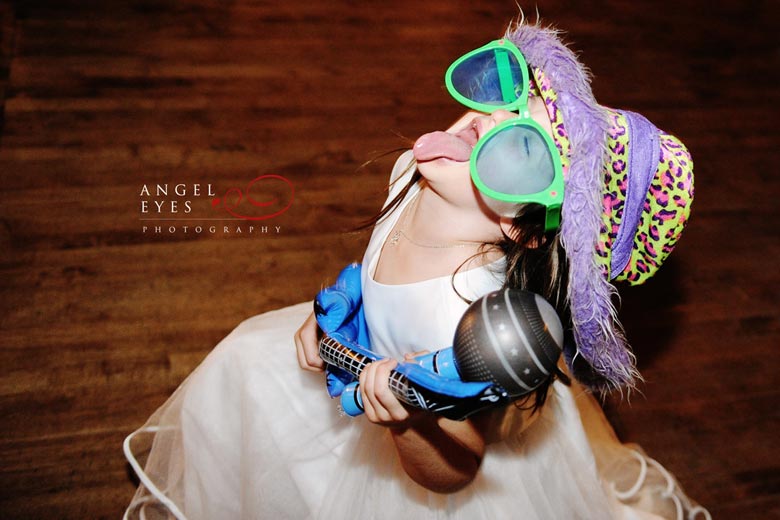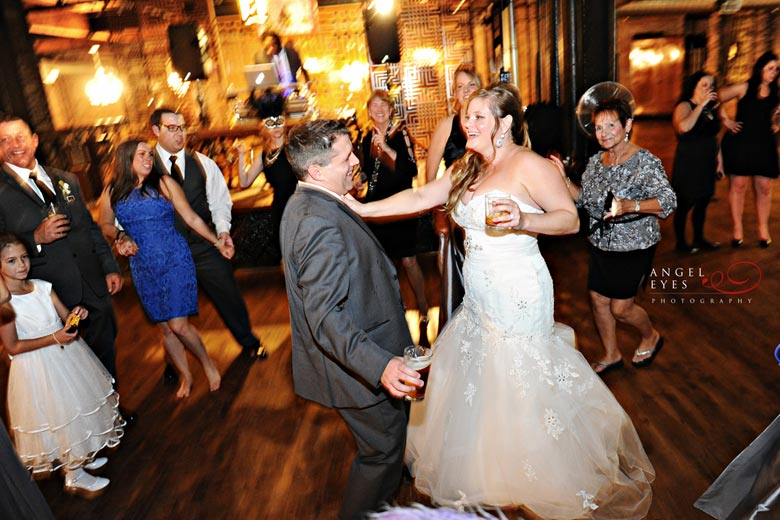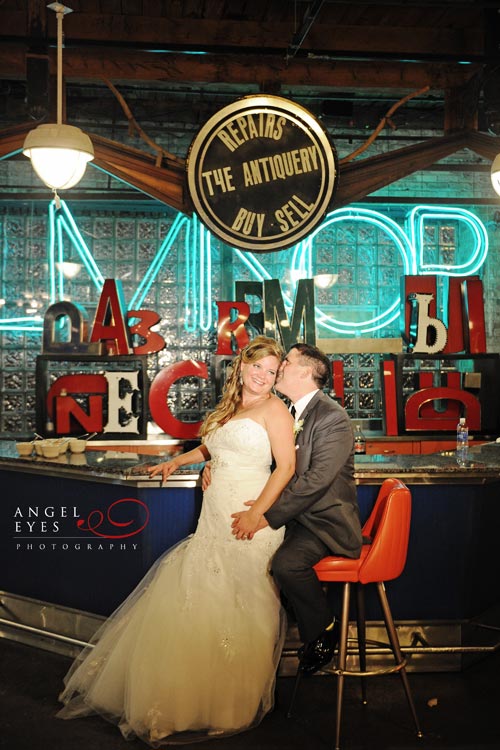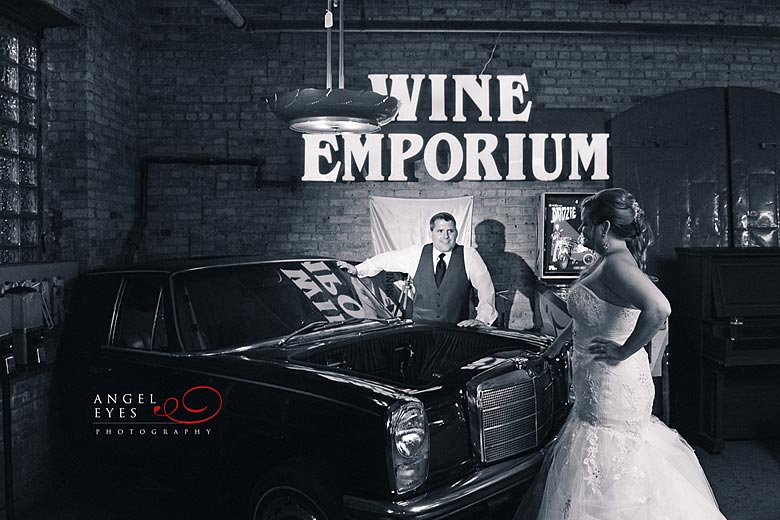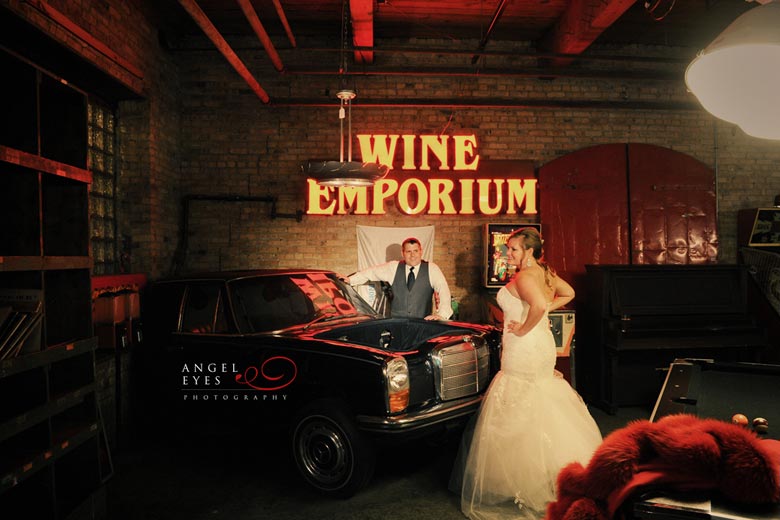 From the Bride…
'Venue- Salvage One
It was absolutely fabulous.  Brandy, the wedding coordinator, was very helpful and nice.  It has won "best place to get married in Chicago" a few years in a row.  I googled "most unique places to get married in Chicago" and this place came up.  It was the first place we visited, and we knew we had to get married there.  The downstairs for cocktail hour, was very interesting as people could walk around and look at the furniture, play games like pool, skeet ball, etc. and many other things to do. They sell everything in the 'warehouse', including all the seats, decorations and bar.  So the wedding guests loved it.   The dinner and dancing was upstairs.  It is a big open area of all wood and windows.  The tables and chairs are all different and unique.  There was a stage for the DJ, more games to play, and some couches next to the bar for lounging. It is the best venue I could have possibly dreamed of.
Church- St. Paul of the Cross, Park Ridge
It is a beautiful church.  The priest is funny and personable.  We had to meet with him six times before the wedding, so he really got to know us.  The coordinators were very nice and had lengthy phone conversations with us to make sure the wedding went smooth.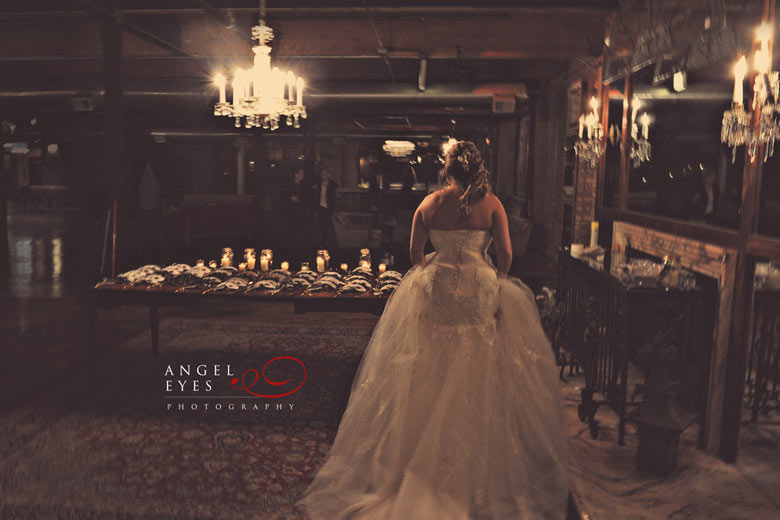 Food- Goose Island
Again, best decision we made.  We choose "Chicago stations" which included stations from Chicago neighborhoods.  For instance, 'Greek town' had Greek food (make your own gyros, etc.), Pilsen had Mexican food (make your own tacos, etc.), Lincoln Square had German food (different types of sausage, etc.).  They even decorated each station like the neighborhoods.  We really loved the idea of this because we love the variety of Chicago's food and hate 'banquet' food with chicken and green beans.  We also liked the idea of getting out of your seat and creating your own dish.  It really made an activity out of the meal.  We wanted a fun dining experience.  And it really was.  All our guests talked about how amazing the food was and how fun it was to visit the neighborhoods.  Especially since Goose Island is a quintessential Chicago restaurant/brewery.  Give that it is a brewery, we were able to go to their restaurant and taste different beers and chose one to be our 'specialty beer' that we got to name.  We named it "Roblin", our name in college. It was also a big hit.  The people are Goose Island were really friendly and nice.  Ellen Frisbee was the main person we communicated with, she was sooo nice.  I talked with her for hours on the phone and exchanged hundreds of emails.  She wanted to make sure everything was perfect.  I felt very special and that this was made especially for me.  Also they gave my husband an Goose Island shirt that he has his eye on.  Only employees get this shirt and I was very surprised they even remembered him mentioning it.  It was so thoughtful.
Liquor- Binny's
We went with Binny's because we were able to supply our own alcohol. Binny's was pretty cheap and we were able to return alcohol we didn't use and got our money back.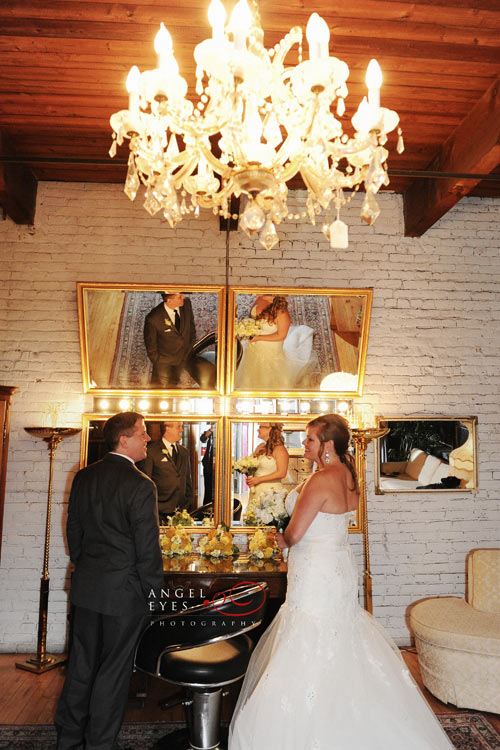 Dress- Macy's and alterations at Mary Catomy
I originally bought my dress downtown at Macy's on state street (Marshal Fields).  I grew up going to Marshal Fields and passing by their dress 'by appointment only' section.  There is a platform in the middle of the room with chairs lined up and fancy dresses around the walls.  It was always so glamours to me.  However, it was a little pricey.  I was going to do my alternations there as well, until they told me the price.  I picked up my dress and took it to a neighborhood seamstress, Mary Catome in Schillar Park.  Best decision I made.  She does alterations in her basement, which is a scene I will never forget: dresses everywhere, sewing machines, jewelry hanging up, pictures everywhere.  This part of the wedding planning might have been the most fun.  I got all my bridesmaids and mother to go.  We took Saturday trips over there and had so much fun.  She even made my veil from scratch and also made our masks for our 'masquerade ball' themed Halloween wedding.  She is a riot and calls herself the 'boob fairy'.  She is very affordable! I love her and highly recommend her.
Flowers- Edison Park's Romance in Bloom
We didn't want to spend too much on flowers because we were told it would make the place look too 'busy'.  We were having a lot of candles and didn't want to crowd the space.  We told this to our florist and she did a great job minimizing while making it look amazing.  I wanted fun, simple, and more wild looking…my mom wanted sophisticated and elegant.  This is a problem we were having at every decision during the wedding.  We couldn't agree on a style.  I know mine opinion is all that should matter, but I wanted her to be happy with it too.  She does have good taste.  Anyway, that is exactly what the florist did.  She put some billy ball flowers, sticks, and other wild looking flowers mixed with white and yellow roses.  These were put in very small vintage vases.  It was exactly what we were looking for.  I really liked the flowers.  It completely matched the theme…they did a good job with little direction from me.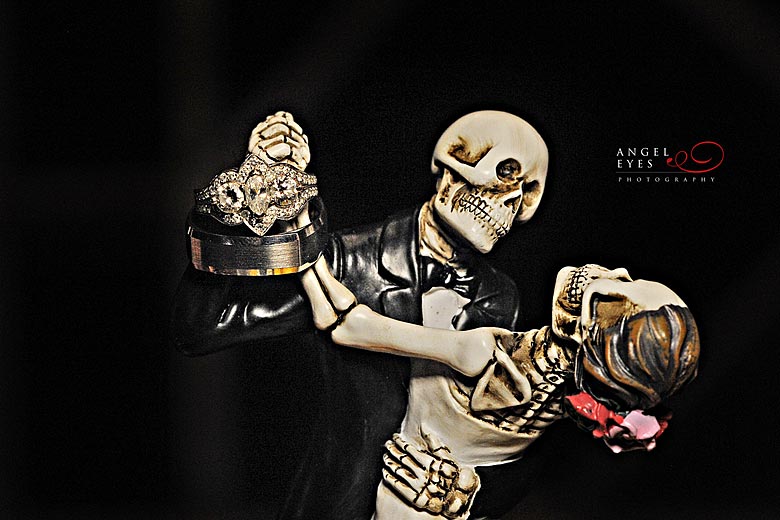 DJ- Toast and Jam
We had Daniel at Toast and Jam.  He was ok.  I heard many great things about this company…"the best in the city" I heard.  So I was confident he would do a great job.  He met with us once and did give us a list of music we could choose or cross out from.  I"m not sure he exactly got the vibe of my husband and my taste in music.  I think he had a playlist he was thinking about for a big wedding and we had a small wedding, 85 people.  Given that it was a small wedding, I knew what everyone would want to hear…and "Hey mickey its so fine" is not one of them.  I eventually had to tell people to tell him to change the music to what I wanted to hear.  He would not do it unless I specifically asked him as the bride.  I understand this, but not even my husband was allowed to change the song.  And I certainly didn't want to go up every song to tell him to change it.  But everyone did say they liked the music and people were dancing, so maybe he did know the crowd better than me.  After I told him what kind of songs I wanted, he did do a good job playing those songs and I danced the whole night through.  Music is so important to a wedding, so I wouldn't really recommend him.  Although, we did have fun and danced the whole night.
Another thing I did not like about him is he wasn't loud enough.  People did not hear him say that we were cutting the cake and didn't see it.  No one heard him say it was our first dance, and no one really lined up to watch because they didn't know it was happening.  That was really the worst thing that happened at the wedding.
Cake- Mariano's
I am not a cake person.  I knew that no cake would taste good to me, so I didn't want to spend a lot of money on the cake.  Although, I did like the idea of it looking cool.  We had a Halloween wedding, so I wanted a Halloween themed wedding cake.  This was turning out to be kind of expensive, even for a small one.  I eventually got the idea to go to Marianos in Jefferson Park.  I brought them a picture of the style of cake I wanted, and they did it to perfection.  We wanted a day of the dead style cake and I couldn't believe they were able to recreate my picture.  It was even 3 tier cake for less than $200. We ordered a skeleton bride and groom for the top of the cake, which really added a lot.  I would definitely recommend going to Marianos, it was tasty and really cool looking.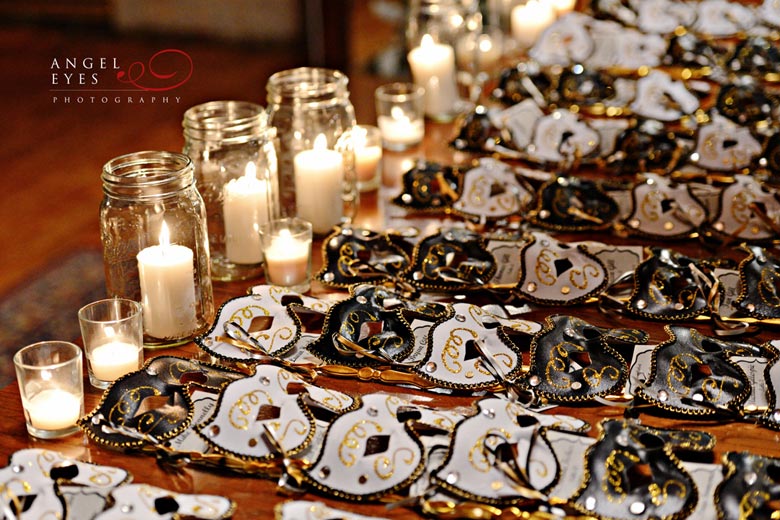 Planner- Kim Gapinksi, Bride + Joy Events
She was the absolute best! I didn't want to spend any extra money on anything, so deciding to get a wedding planner was a tough choice.  We hired Kim as a 'day of wedding planner' and I don't know how we would have done it without her.  Since our wedding wasn't at a hotel or anything like that, it required us to do all the decorating, etc.  She helped come up with a lot of decorating ideas for the wedding.  Her dad has a pumpkin farm, and she got a lot of small pumpkins from his farm and painted them silver, white, and black (our wedding colors).  She decorated the tables perfectly.  She organized the candy table perfectly.  I just had to show up the day of and it was all worked out.  She came up with a timeline for the day and gave it to all the vendors.  She came up to me to say "go get your food", "go cut the cake", "its speech time", etc.   I don't know how it would have ran if she wasn't there.  She is also very bubbly, nice, and cool.  She was also one of the best things about the wedding.
Candy- Sam's Club
Candy table! It was a must for Halloween! I went online to find candy buffets, but they were so expensive.  I was going to have color coordinated candy, but that was too expensive also…like $1000 for candy! Since it was Halloween, I opted for the cheaper 'Halloween' candy.  We bought a bunch of bags from Sam's Club and some glass containers.  It worked out great.  We even got Chinese food take-out containers and put stickers with our names on them.  So people could take the candy home.  I think the guests really liked that.  But it was also very cool to have our sweets table as candy.
Tuxedo- Men's Wearhouse
We liked the Men's Warehouse.  They had a great dark grey, Vera Wang tuxedo that really looked great.  They were very nice and accommodating.  My husband got a $500 off on a suit purchase in the future. It was convinent for everyone to get to a Men's Warehouse whatever they were.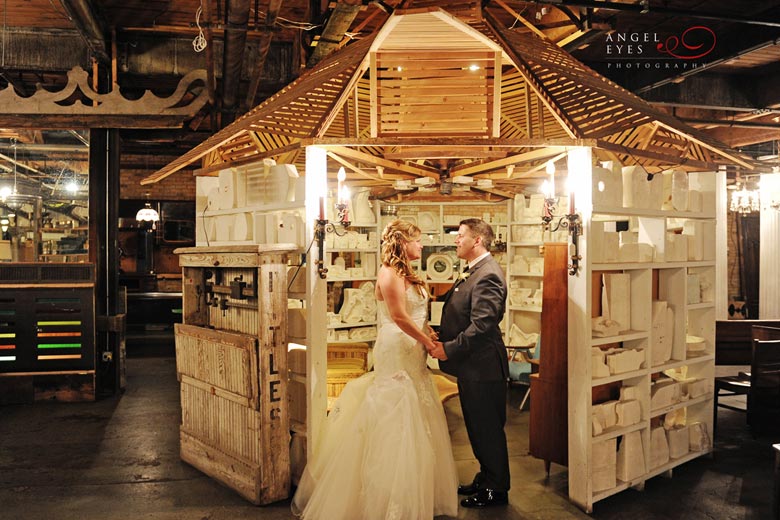 Programs- FedEx Office
Making anything for a wedding it so over priced.  I googled "wedding programs templates", made our own, and sent them to Kinko's.  Actually it was FedEx Office.  We did a lot of our printing needs there.  We also did the seating assignments and tied them to masquerade masks as our seating assignment/give away.  Two birds with one stone!
Invitations-Jeannie's Let's Celebrate Inc.
We wanted to use local places for our wedding, give the small guy some business.  We worked with Jeannie herself and she is really sweet.  Our invitations were very cool and exactly us.  We went through hundreds of big books, exhausting.  But found one.  They were cheaper there than other places that I found.  She helped with fonts and wording, etc.  The envelopes didn't stick very well and I'm pretty sure it was because we licked them too much.  She felt bad and gave us free balloons for our bridal shower.
Photographer- Hilda Burke, Angel Eyes Photography
She is the best! She was very fun to meet with and plan before the wedding.  She was very helpful with any questions that I had.  She helped with photo questions (obviously) but also with other questions she could help with…suggestions for videographer, suggestions for wedding timeline, etc.  She is very honest with everything, which was very appreciated.  I needed help and obviously never planned a wedding before, so her honesty with how the day would flow, was very helpful.  She made sure to get amazing shots while 'staying out of the way' so to speak.  She kept us on our timeline because we were VERY late getting ready.  If she didn't push us, we would not have gotten to our photos, church or venue on time.  She had great suggestions for photos at The Grove, which was rough because it was 32 degrees out in October, freezing! Her and Carol were great seeing which angle would work best and what we were doing right or wrong when it comes to pictures (kiss with eyes close  ).  She has a very creative eye, that is why I choose her! Looking at her past pictures, I knew she would be great for me.  The pictures are so artistic and unique and I can't decide which ones I want to blow up! All of them! They are all magazine quality.  I have seen a lot of wedding pictures before and I have never seen any look as good as Hilda's.  Everyone I show is so shocked about how amazing the pictures are.  She knows the secret angles and lighting and backgrounds better than any other photographer.  She got uncover shots you never knew she saw, and forgot happened until you saw the pictures.  I would highly recommend her! Pictures are so important and everytime I look at her photos, it brings me back to the moment.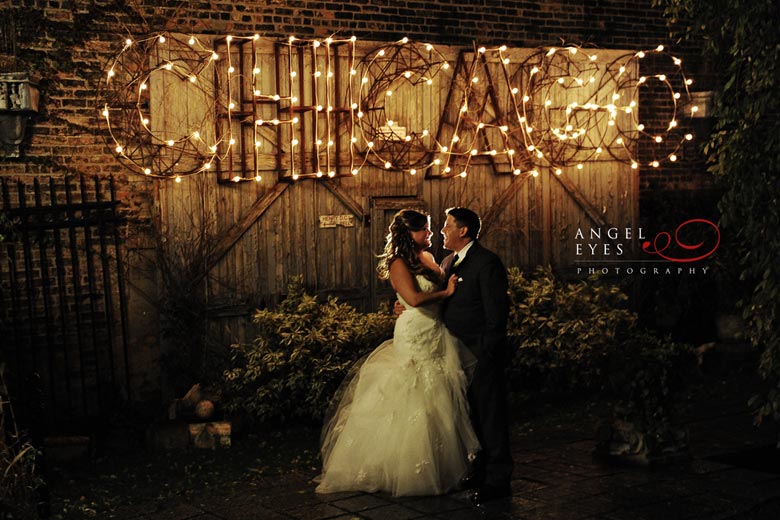 Favorite Wedding Related Purchase :  Hmmm…everything I purchased took a lot of thought because I was trying to do things on a budget.  I really liked the decorations for the tables.  I loved the candy table.  I loved the food.  I loved the masks.  I guess if I had to choose, my favorite purchase was the dress.
Favorite Wedding Memory: I have a few favorite memories.  One was when I was walking down the aisle with my dad.  The anticipation was crazy! We didn't know how to walk properly and were a little nervous.  It was great seeing everyone and them seeing me for the first time.  And to see Rob at the end of the aisle with a huge smile on his face.  Another favorite memory was seeing Salvage One for the first time all set up.  When we walked in and saw how everything was decorated was more than I had imagined it.  Just perfect.  Plus seeing everyone waiting for me made me feel special.  Another favorite memory was the speeches.  My two sisters and Rob's brother had the very meaningful speeches and I loved them.  Also, my brother Matt with the surprise comedy speech.  It was exciting to know that my family really stepped up and made me so proud. Something I will say that I will remember the most about the wedding, was planning it with my mom.  We had literally spent every single day for a year and a half planning every aspect of this wedding.  It integrated in every single thought we had for that year and a half.  Every single detailed was discussed, sometimes argued 🙂  We spent hours traveling around the city visiting churches, venues, tastings, purchases, etc.  We tried to DIY for everything possible thing we could and worked so well together to create everything.  Waking up that day and seeing all the work that we had done, from imagination to realty, was the most amazing moment.  I will never forget all that planning and how much help my mom was.  However, if you would ask what was my most fun memory of the day, I would have to say that it was in the limo ride from the church to the reception.  It was actually snowing ice, if that's even possible.  Traffic was crazy, crazy busy because it was Friday, rush hour, Halloween, and horrific weather.  But inside the limo it was HOT, HOT, HOT!  We we're passing around champagne, screaming out the windows, blaring our favorite beats and dancing our butts off! I almost didn't want it to end.  We we're finally married, the reception party was about to begin and it was the most perfect transition between those two moments.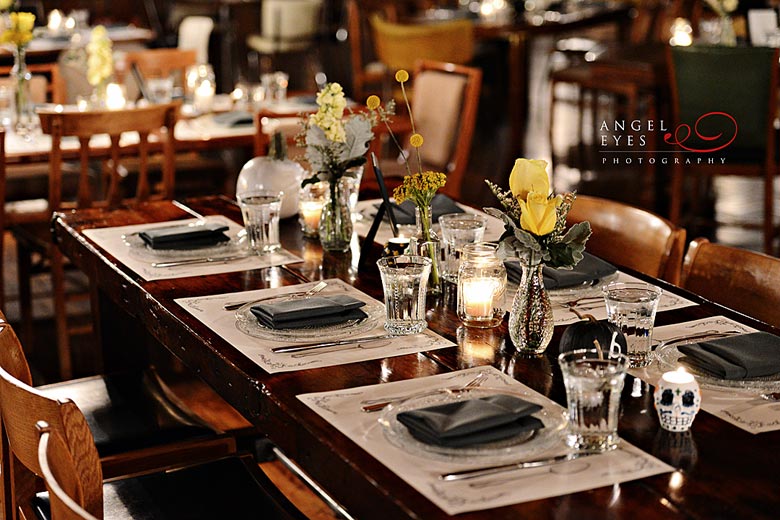 There are very few things I wish we had done differently because honestly, it was almost 100% absolutely perfect.  One, I would not have hugged someone drinking red wine.  I would have my bridesmaids better learn how to bussle a dress.  I would have made the DJ better announce the first dance, and made the songs longer.  And, I did love getting married on Halloween, but having a Friday wedding made timing a little hard.  But it probably would have gone just as fast if it was any other day.  IT GOES TOO FAST!
Advice for couples:  I suppose I have the same advice other people gave me.  Always, always smile because someone is always watching, and usually its the photographer.  I made a special point to smile the entire day (wasn't hard) and everyone commented about how happy I looked.  If you're happy, your guests will be even happier.  Spend as much time with your new spouse as possible.  This is your day together.  I do not regret not going around saying hi to everyone, I much more will remember hugging my husband, kissing him at any opportunity and celebrating together.  And take the time to separate the two of you from everyone and soak it in.  Step aside and talk about how everything is going, what is your favorite part and take mental snap shots of the event.  It goes too fast and if you don't take time out for yourself, it'll rush right by you.  And DANCE! Make sure the DJ is playing your favorite jams and dance with your favorite people! Dancing the night away is one thing I will always remember from my wedding.  And have a wedding planner   You do not want to spend any time on your special day worrying about logistics.  And you don't want your parents to worry either.  You've spent so much money on that one day, spend just a little more to make sure it goes smoothly.'