The Signature room at the 95th, John Hancock Tower | Chicago downtown skyline wedding photos | Sarah & Jeff
Pay attention bargain hunters because I'm about to spill the secret of how to have a high class wedding on a budget. Fist you choose a non week end day, like a Wednesday. Then instead of a dinner reception you have a lunch. Invite only immediate family and very close friends. Sarah and Jeff's wedding guest count was 35. They had one of the most beautiful weddings I've ever had the pleasure of photographing. The Bride's dress was from JC Penney!! And she looked absolutely amazing!!
Started the day bright and early at 8:30 AM so we can do all the fun photos ahead of time. At the first look Jeff gave his Bride one single beautiful flower. Sara didn't even care about having a bouquet! But she did care about having amazing photos, so I had plenty of time with the happy couple 🙂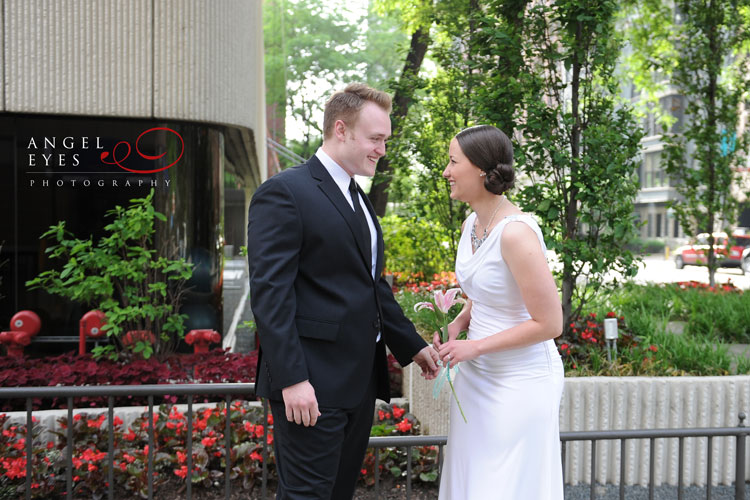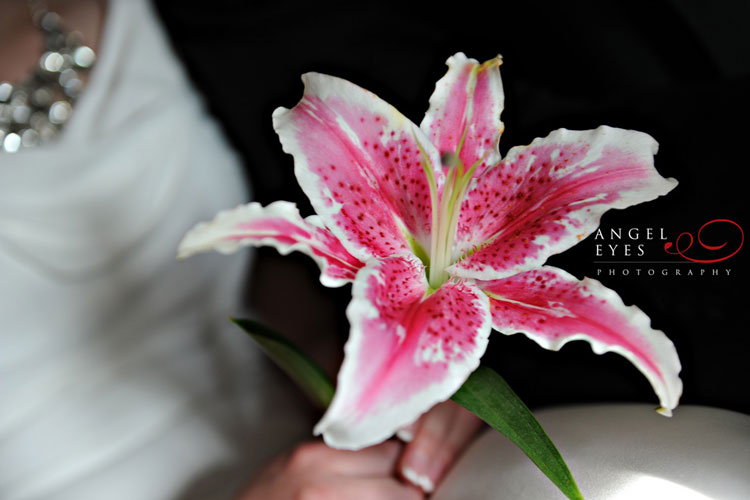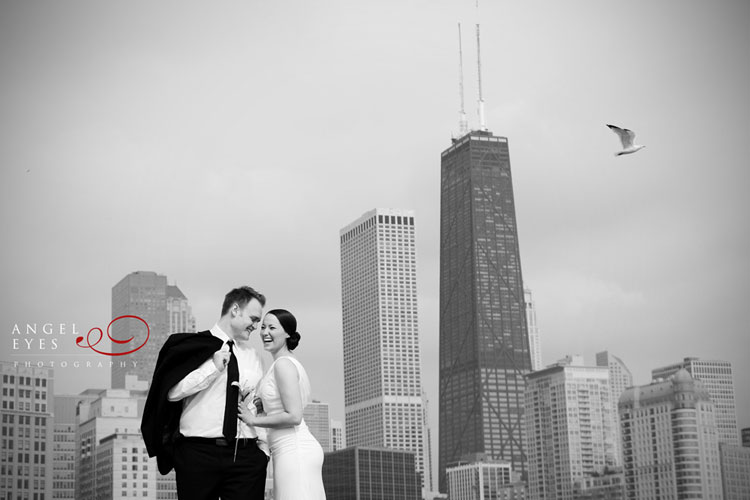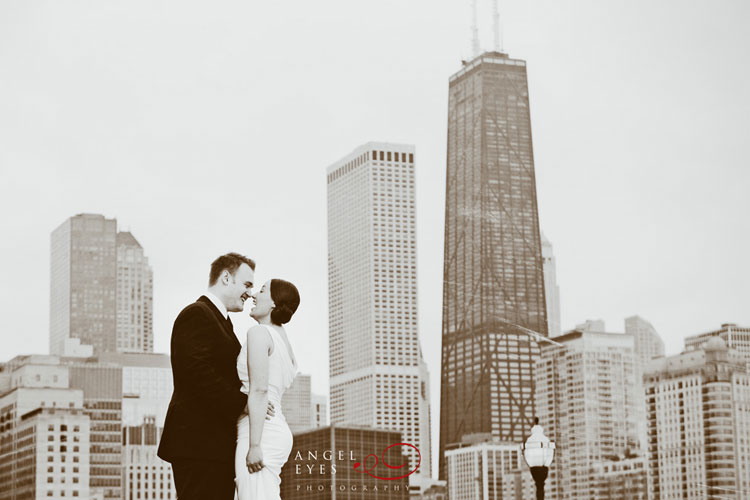 And the fact that they laughed at my corny jokes just made me love them even more.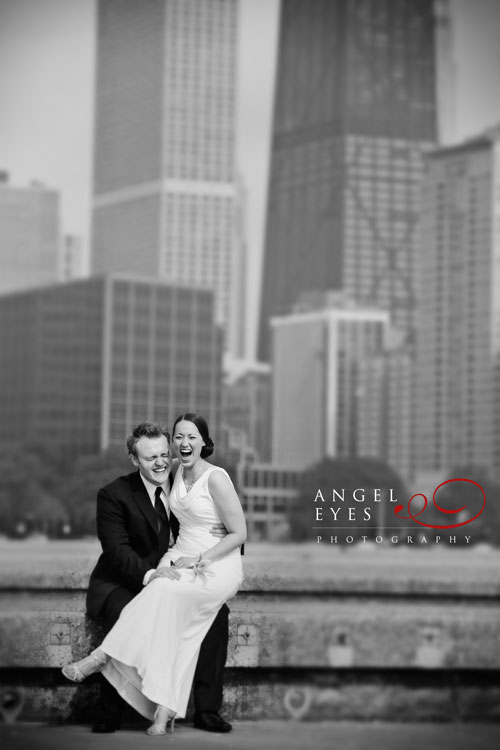 It was so fun photographing them with the  John Hancock Tower in the background since that's where their wedding was.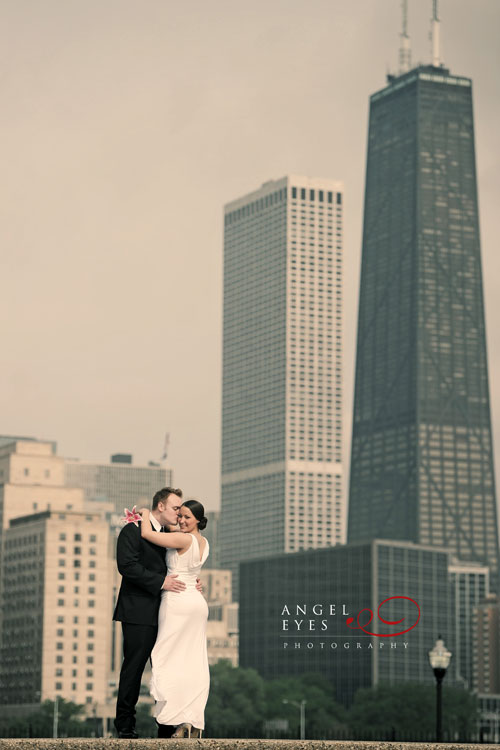 Yes, random strangers will stop you on your wedding day. Everyone loves a Bride and Groom.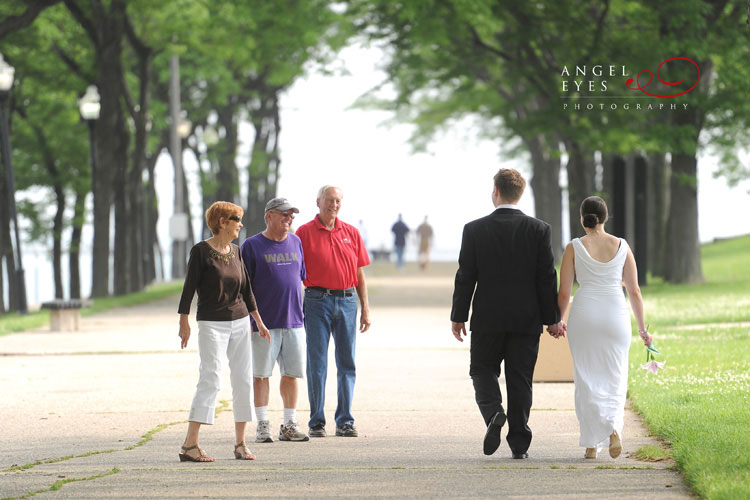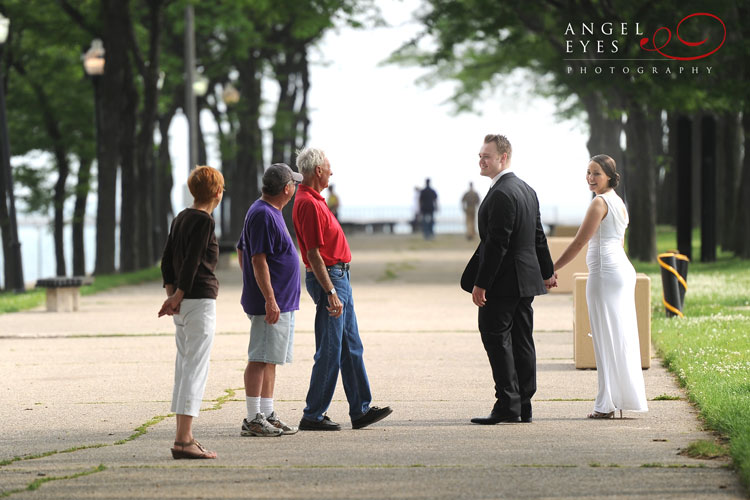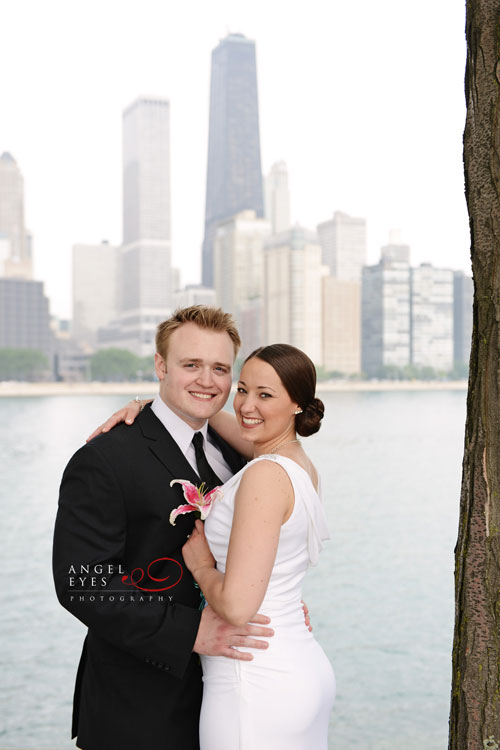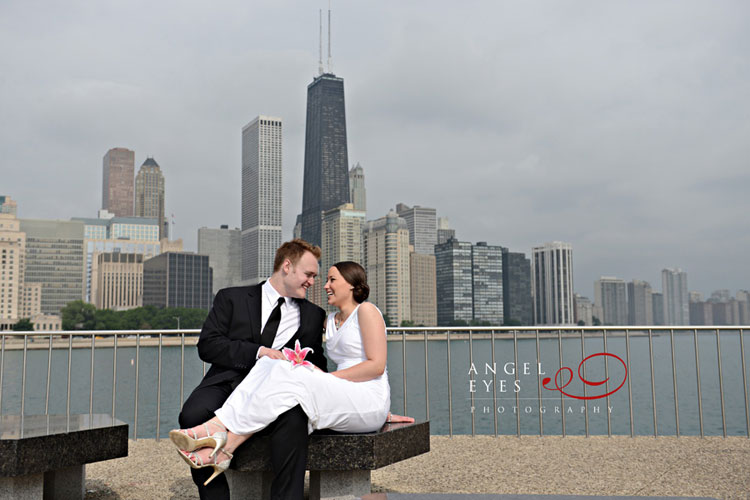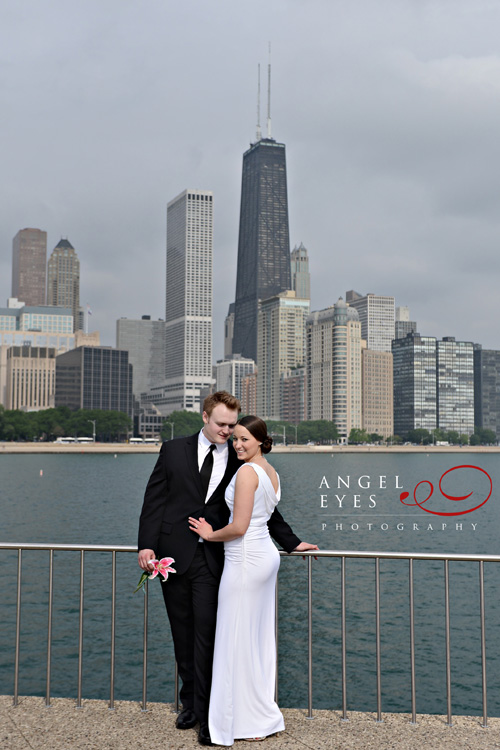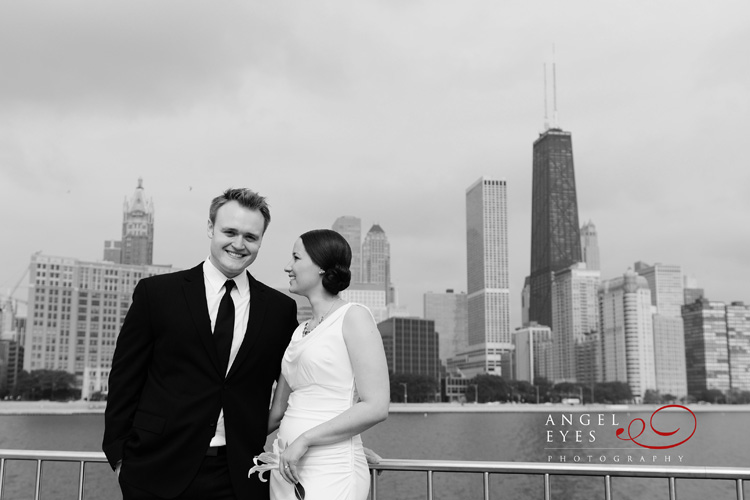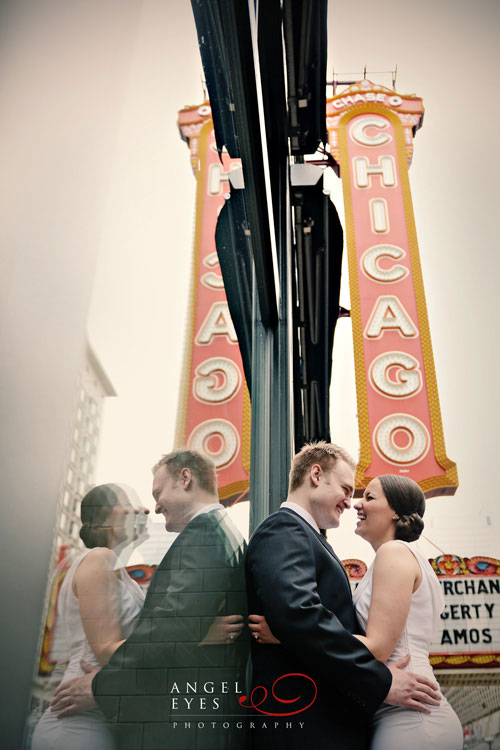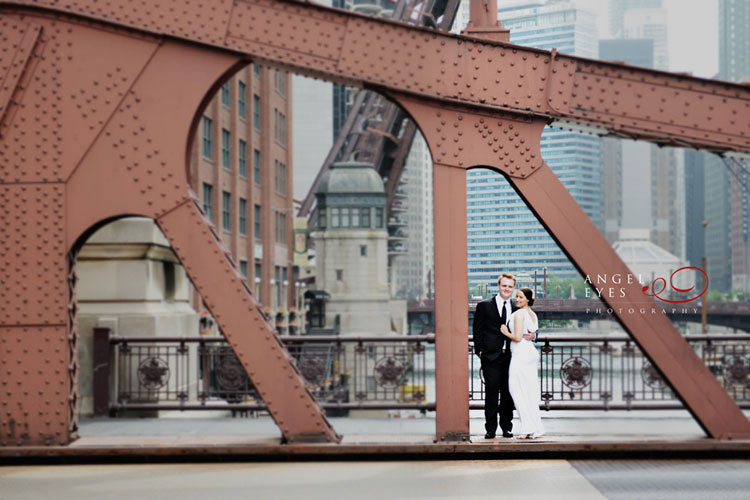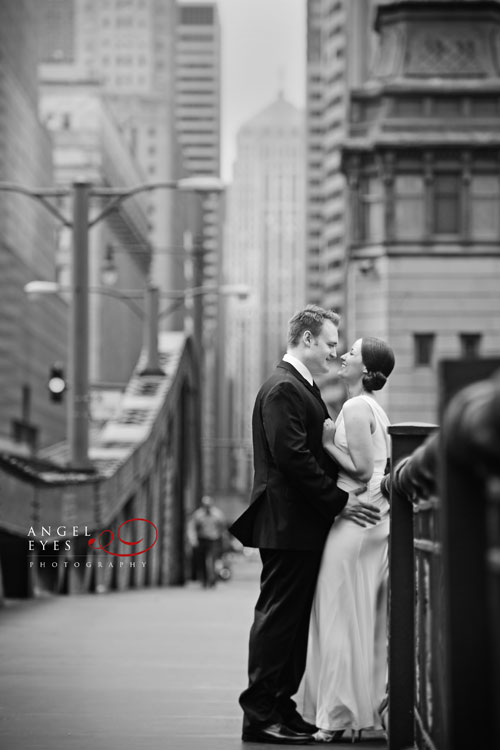 Ceremony and reception was at  The Signature room at the 95th, in the John Hancock Tower.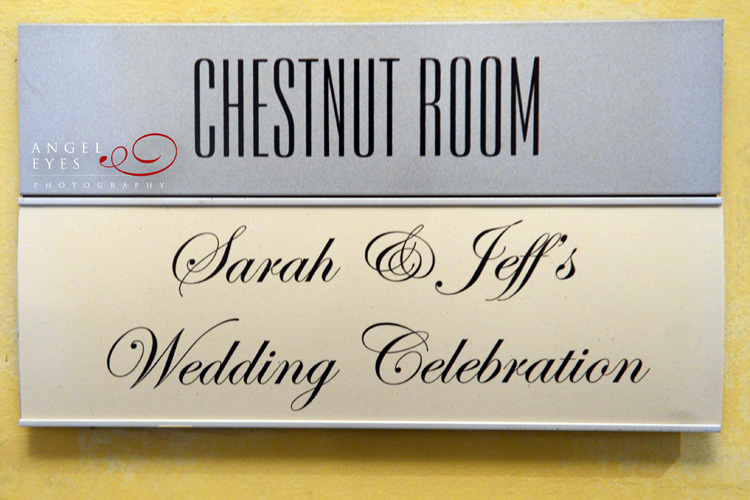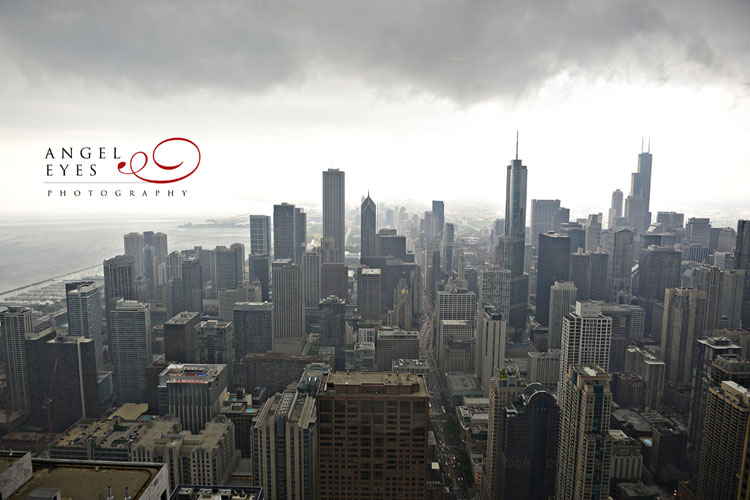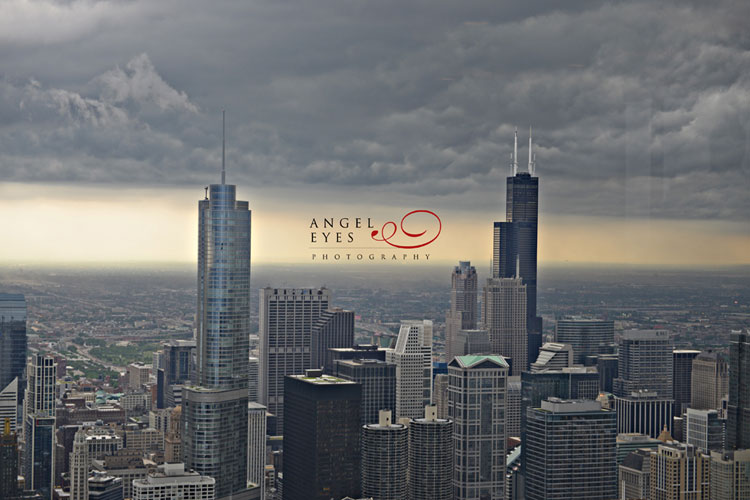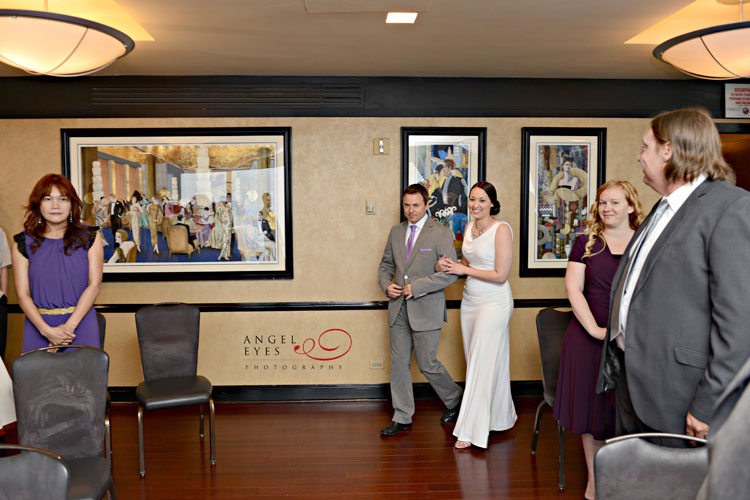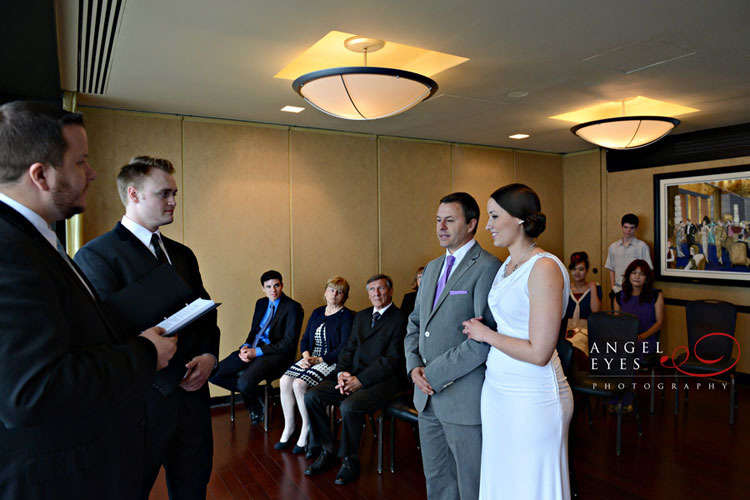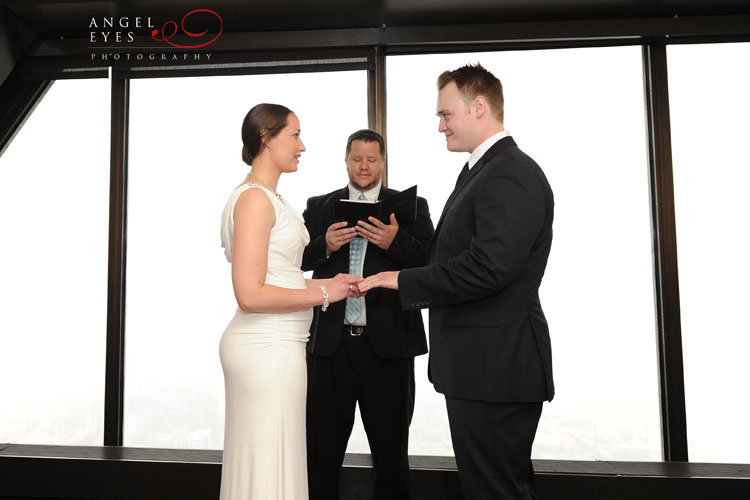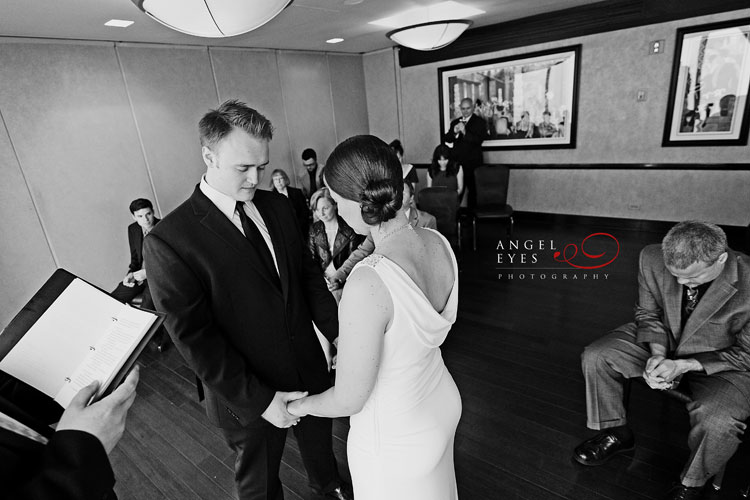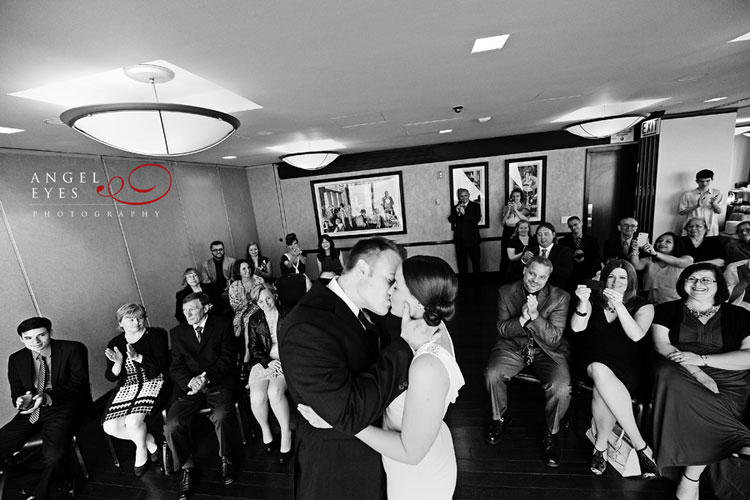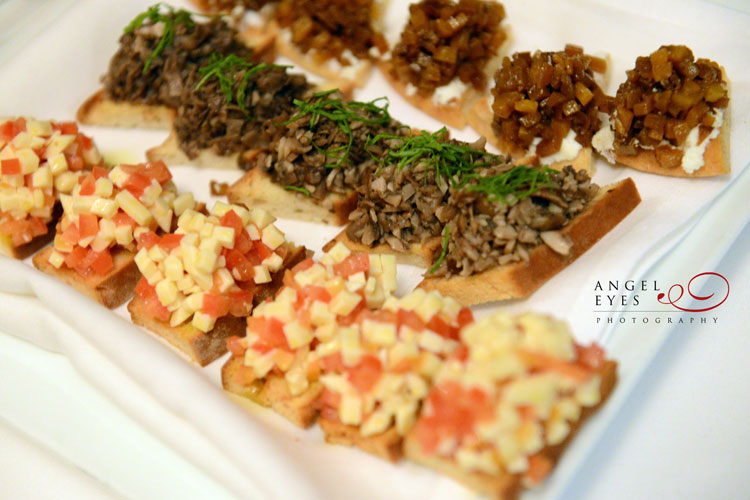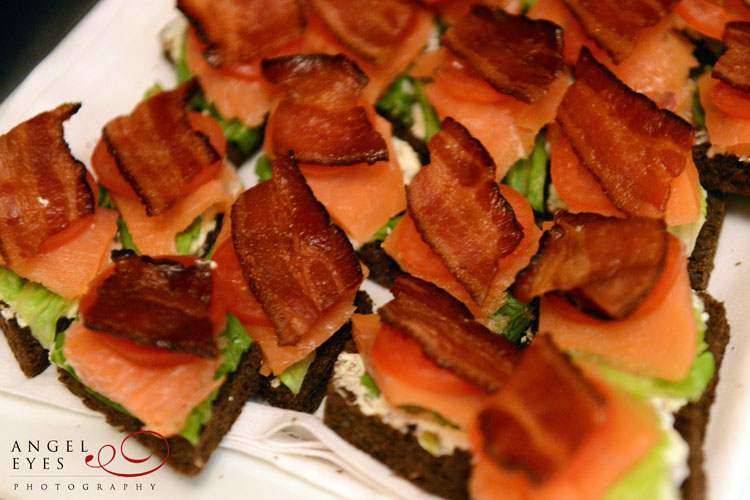 Can someone please explain to me HOW, WHY spiders live on the side of glass buildings 95 floors up?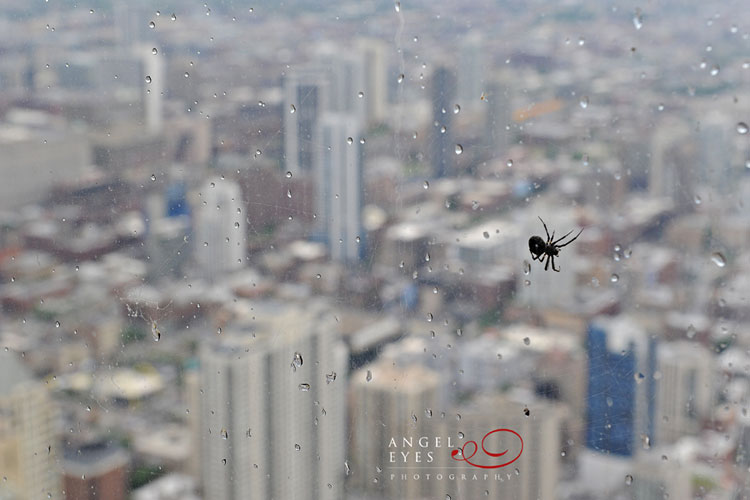 The view is everything!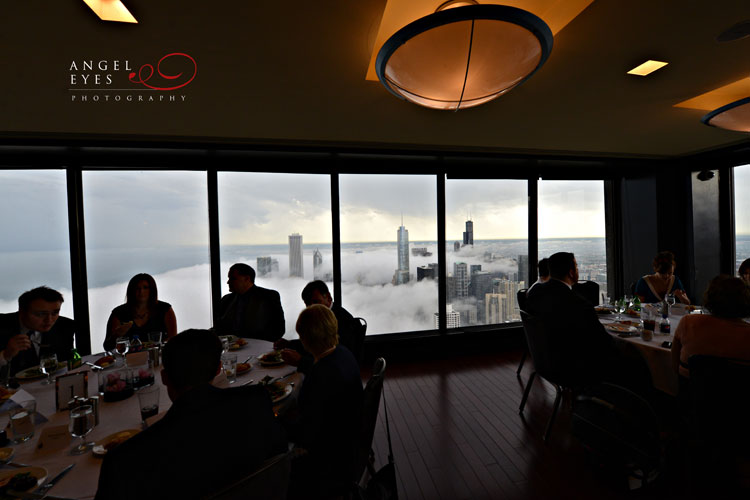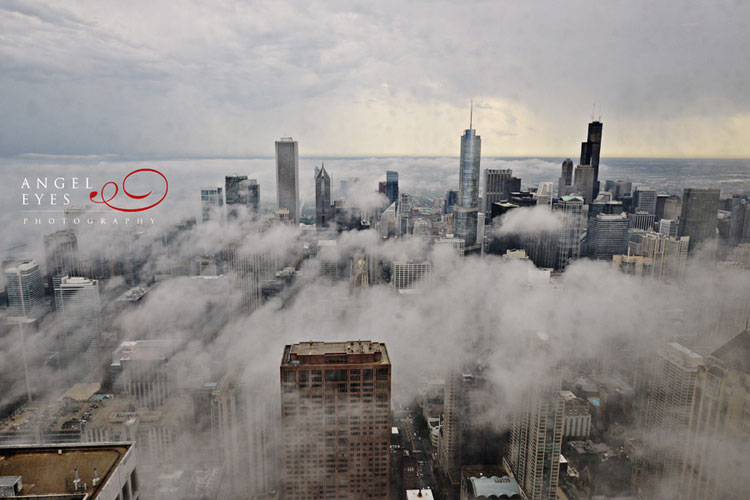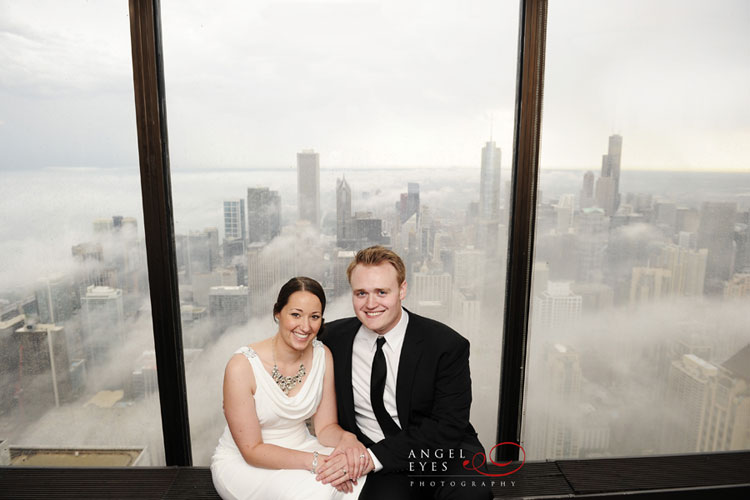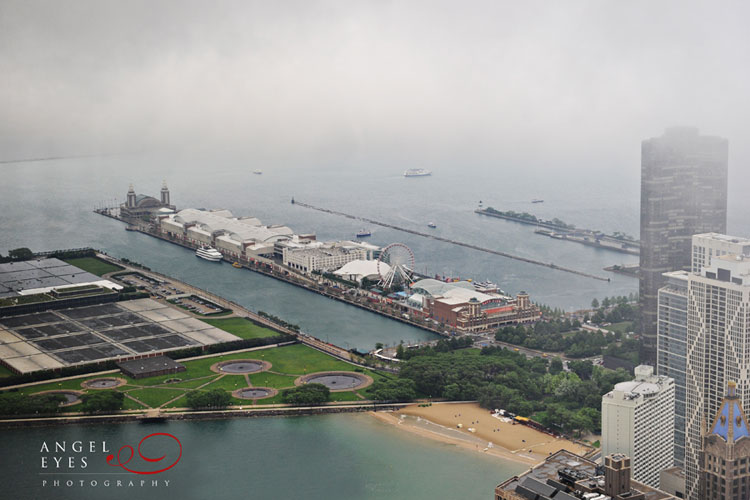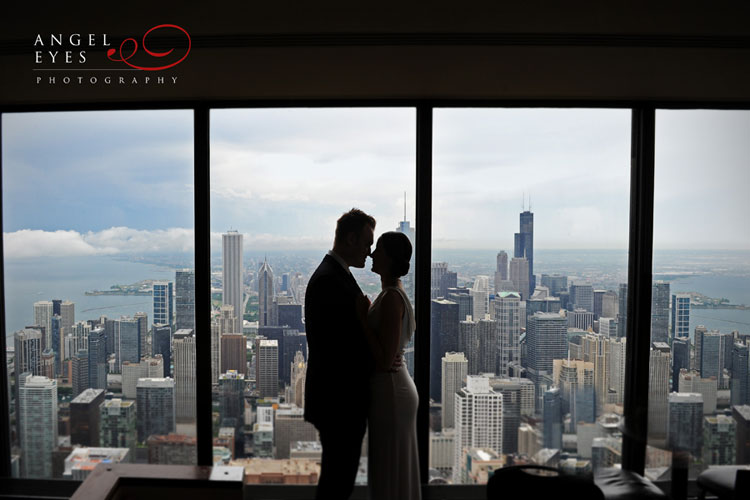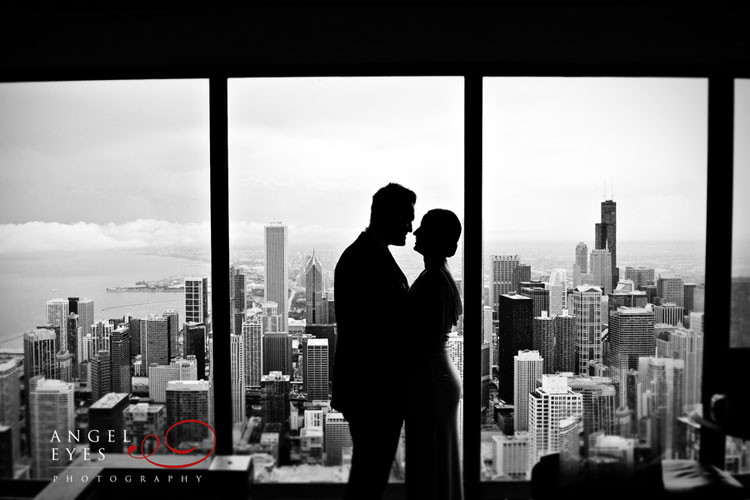 From Jeff & Sarah…
'Our venue was the Signature room at the 95th in the John Hancock Tower, Chicago. Everything the Signature Room did for us was perfect. They were super helpful and always tried to make it as easy and close to our wishes as possible! They took care of our centerpieces, gave us excellent food choices and being able to have a desert bar instead of a wedding cake was just awesome!
My dress was from JCPenney. My mother in law found it and once I tried it on two weeks before the wedding day, we knew that that was the dress! It was totally me!
Shoes and jewelry were from Macy´s. I wanted to have a big statement piece necklace and keep the rest of my jewelry simple.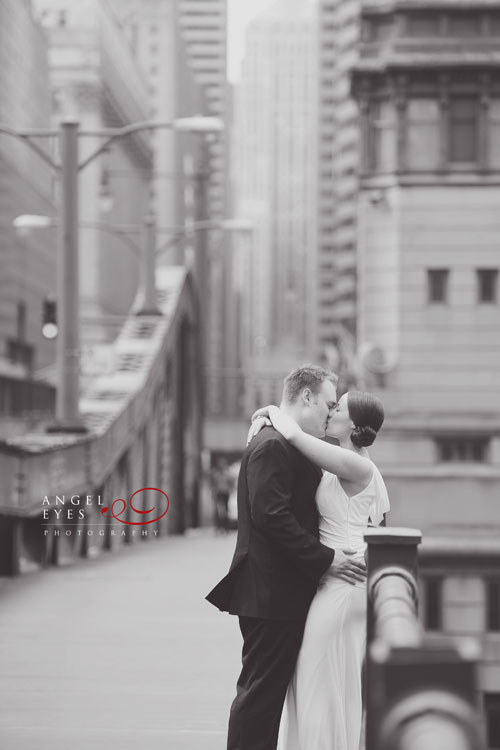 Jeff´s suit we got at Men´s Wearhouse. We wanted to get a suit  he could also wear after the wedding.
Our favorite purchase were the rings. We went to Jared to pick out the diamond and the setting for my engagement ring. I wasn't allowed to see the put together ring until he would eventually propose! (It looks gorgeous!) The next day after he purchased the engagement ring we went there again and found the perfect wedding band.
Favorite memories:
Sarah: "Waking up in the morning and realizing that I was about to get married to the Lord´s perfect match for me! Also that my family came all the way from Germany to be with us on this day!"
Jeff: "Aside from seeing my beautiful bride for the first time in her wedding dress, it was a blessing to see my family reunited after so many years of being spread out around the country!"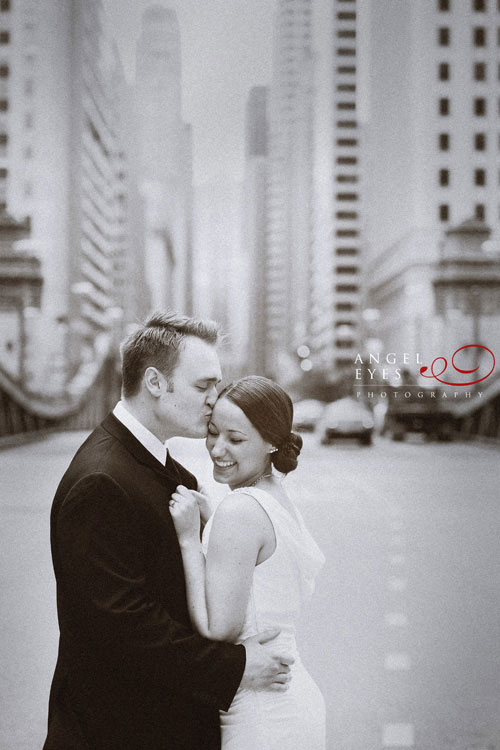 Booking Hilda (Angel Eyes Photography) as a wedding photographer was the best decision ever! She wasn't only our photographer but also our friend, stylist, coordinator, etc.! Throughout the entire process she was super helpful, all the tips and the advice she gave us before the big day were great! THANK YOU, HILDA!
Enjoy every minute of your wedding; the time will fly by! Also, wear comfortable shoes!!!! ;)'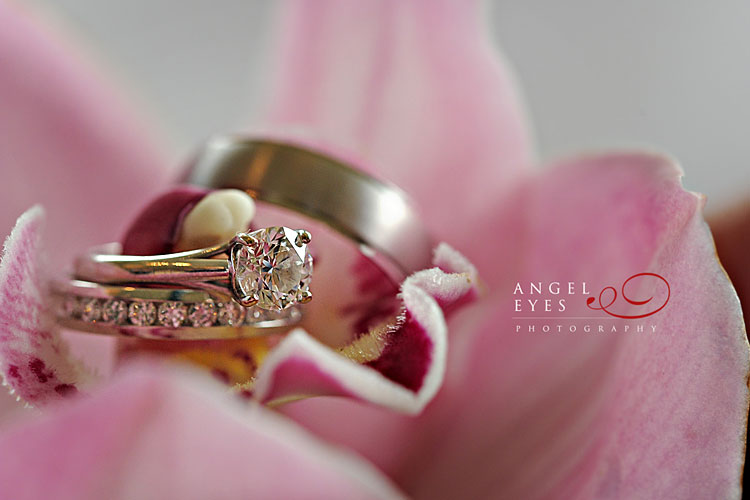 I love comments below or on Facebook. Thank you 🙂